International Marketing – Global Dance Center on the Island of Koh Phangan?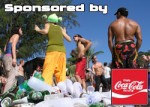 Yo … went to world famous Hadrin Beach today and the current threat level there is "Same-Same but Different". Actually I haven't been to Haad Rin beach for quite a while now and normally never at daylight. But today I did and to be honest with you it looks and smells like a shi…ta ta ta ….hole!
Koh Phangan Island News also recently discovered the real meaning of "Freedom Of Speech" and has received a serious threat against the webmaster 😉 – That's awesome! The serious threat can be found in the last comment on an earlier posted article 'Crime Rate increase on Koh Phangan'.
On the Island Menu this month is the OFM – Once in a Full Moon! Thailand's first ever internationally marketed global dance music festival with five arenas and the world's top dance music acts at the best monthly outdoor venue in the world!
BE A PART OF IT 😉
Wade Cawood "Yes this is our debut OFM party – with many more to come! We are estimating up to and around the region of 40,000 people. First and foremost we aim to raise as much as possible for the Tsunami Fund. Secondary, of course, is the need to give Thailand a dance event for the future as the Full Moon Party has never been marketed on a global scale for Koh Phangan yet. This island is a hub of activity every month when it is full moon time and now that the infrastructure is more in place it can handle a bigger audience."
Well … what the heck is Wade talking about? UFO? Or was it MOF … FOM? With many more to come? That's awesome again! Also again some Tsunami – respect! And secondary the NEED to give Thailand a dance event for the future – WOW! That's impressive!
Wade would probably have a nice chat with Thailand's PM Shinawatra Thaksin and his current needs for the nation of Thailand about Closing Hours, Backpackers, Party Tourism and High Class Tourism.
"Organizing this event has been tougher than anything I have taken on before – from local business owners to government officials and the police etc – it's been an educational mission as to what we can bring to the island if we had their support."
Educational mission? What we could bring to the Island? The driving force mostly comes in many different sizes, forms and colors. It's mostly printed on pieces of paper and makes most people on this planet somehow very, very happy … at least for a while 😉
"We will, however, be asking for a 100Baht (US$2) donation. 28% of the income going back into improving Koh Phangan's facilities, and a partnership with 'Save The Children' ensuring a chunk of sponsorship proceeds goes to victims of the recent devastating Asian Tsunami disaster. We are building better waste facilities and acquiring a unique beach cleaning machine for the morning after. We will be modernizing the whole event with providing new sound systems, amazing light shows, new facilities and vastly improved security and first aid services."
Isn't that GREAT? A unique beach cleaning machine 😉 New sound systems 😉 Amazing light shows 😉 New facilities 😉 Vastly improved security 😉 Is it ever going to STOP? Do we really need all that internationally marketed global dance music center stuff?
"We are proposing to take the FMP to another level by globally promoting an annual event, bringing the world's biggest dance acts together and putting the FMP on every clubbers "must see" list."
To be honest, sometimes I'm really worried about the current FMP level compared to the time when there were no levels. And finally the Island got listed on every clubbers 'must see' thing. That's awesome for the third time 😉 So … what's the next level be like?
"We have the support of a nation where our aim is to show the world that Koh Phangan truly is a place for the future generations to come and enjoy, as the music will continue to dominate what this island stands for. Asia needs a destination like this to be taken on board by the global clubbing community and we aim to be that place!"
Holy Crap!
So … BE A PART OF IT! And please don't forget to donate US$ 2 for the Haad Rin Beach community who made millions and millions over the last couple of years. They need your support! I have seen it today again. They don't look happy there anymore at Asia's world famous global dance center formerly known as Haad Rin Beach. They definitely need your help!
CONCLUSION :: BE PART OF IT OR JUST BE 😉
"I have moved my yearly Thaibreak event to Koh Phangan as we feel this wonderful island could be on its way to becoming the next Ibiza," said Thomas Kleutgen from Partysan.net.
"My favourite place to DJ in the world is on a beach on Koh Phangan, just as the sun is coming up over the party," said Stuart Patterson, founder of Soulsonic.
p.s. sorry for being so sarcastic but I think the shit is going to hit the fan 😉