Jai Roon! Jealous Thai man slashes his Thai girlfriend's throat on Koh Phangan Island

A 24-year-old Bangkok Thai man was arrested on murder charges after allegedly slashing his girlfriend's throat with a knife in a fit of jealousy on Koh Phangan island on Tuesday night.
Natthanet Rujvoranont, 24, told police he flew into a rage after seeing her chatting with another man online on her smartphone.
The murder occurred at a bungalow on Had Rin beach in tambon Ban Tai of Koh Phangan district,  Pol Col Prachum Ruangthong, chief of Koh Phangan police station, said on Wednesday.
Police and rescue workers alerted to the incident and sent to the scene found Mr Natthanet crying beside the body of a woman lying face-up in a pool of blood on the bed.
Kunthika Churuek, 24, who was the man's girlfriend, had fatal knife wounds to her throat and chest. A blood-stained knife was found in the room.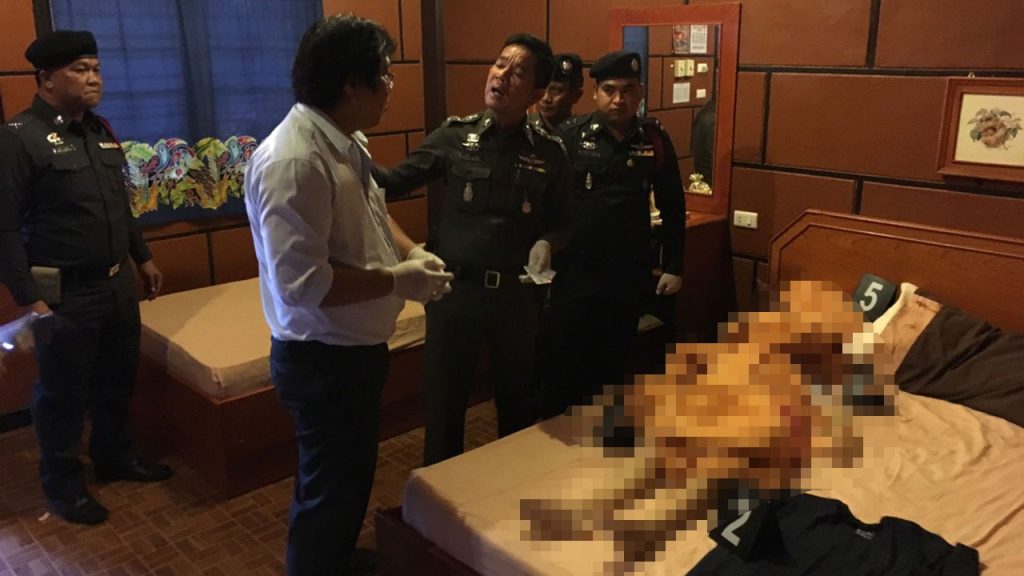 Mr Natthanet, of Bangkok's Lat Phrao district, told police he and Ms Kunthika had left Bangkok for Koh Phangan on May 9 for a holiday.
On Tuesday they left their rented bungalow on Had Rin beach, bought some fruit and a knife at a nearby shopping mall and returned to their room. A quarrel developed around midnight when he saw Kunthika chatting with another man online on her phone. He felt extremely jealous, the suspect said.
During the quarrel, Kunthika asked to break up their relationship, sparking his anger. He then assaulted her, using the knife to slash her throat and stab her in the chest in a jealous rage, Thai media reported.
Afterwards, he phoned his mother in Bangkok and said he had killed his girlfriend. His mother immediately alerted police, for fear her son might also  take his own life, Pol Col Prachum said.
Police investigators found out the victim had earlier sought to end their relationship on several occasions.
The suspect was held in police custody at Koh Phangan police station on murder charges, and was  expected to be arraigned in Koh Samui court on Wednesday.
He burst into tears when his mother visited him on Tuesday afternoon. He told her he regretted killing  his girlfriend, Thai media reported.
Thank you to Bangkok Post "Jealous man slashes girlfriend's throat on Koh Phangan" which was brought to us by Google Alerts.