Koh Phangan Vehicle Rentals, Accidents & High Petrol Prices – Part 1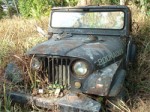 Welcome back to Koh Pha-Ngan, the island of madness and daily increasing insanity!
Well … recently Becki went on his 90 days shitty visa run and parked his beloved Honda Wave 125 cc just directly at the so called International Pier next to the Seatrans office. Coming back two days later only to realize that some bloody creatures had stolen all the petrol from my motorbike by ripping off the fuel line below and sucking out the very last drops of my tank filling! Isn't that amazing … welcome to the land of the charming smile and bloody reptile petrol suckers 😉
Word on the street is that this happens regularly whenever you park you motorbike somewhere for a night, preferably at the main pier in Thongsala main town. The local police agents here don't give a shit as usual, as they are normally occupied with some private hooker investigations at the Horny Mile between Thongsala and Baan Tai village. Probably looking for their monthly consultant blowjobs as prostitution is somehow officially still illegal in Thailand and, of course, the local police have to constantly monitor that criminal activity.
Also more and more incidents of stolen motorbikes are reported every couple of weeks, leaving us with the only choice to reconfirm that the general situation here on beloved Koh Phangan Paradise Island is indeed more than critical! Where is the charming Thai friendliness, family like culture, this so called 'Mai Pen Rai' attitude and respect for each other as promoted by all those Island Magazines and Travel Guides? Well … bullocks … probably only one of those ancient Thai myths?
But at this point Becki has to say that there are still some very lovely and nice local Thais here on the island, but it gets more and more difficult to find these ancient people as more and more are being transformed by the 'I do everything do become bloody rich' attitude!
Anyway … then recently we also got that tiny peak season in August where half the world met up at Haad Rin beach on Koh Phangan Island to celebrate the monthly top event – The World Famous Full Moon Party! The island was packed with thousands of tourists and another couple of thousands of totally insane local Thais to fill up their pockets with … yes … In God We Trust … MONEY 😉
So … all these co called 'farangs' obviously also need a vehicle to explore the hidden secrets at one of the top destinations in South East Asia. That's pretty easy done as there are thousands of shops around the island specialized in motorbike and jeep rentals.
Well … Becki has written many, many times about the bike & jeep rentals rip offs here on Koh Phangan Island News, but somehow most tourists here simply don't really get it and do the same mistakes again and again!
To be continued -> Koh Phangan Vehicle Rentals, Accidents & High Petrol Prices – Part 2