Dead Burmese body rescued at Haad Yao Beach on the west coast of Koh Phangan Island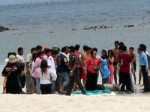 A couple of days ago, Wednesday 21 June 2006, a dead Asian body was found floating on the water outside at the reef directly at Had Yao Beach Koh Pha-Ngan Island!
So far the dead Asian body was identified by island gossips and rumors as Burmese nationality. Police Island officials showed like usual more or perhaps less interest in that murder case. The dead Burmese guy was found with a rope around his neck and both feet were tied up strong.
The rotten body was drifting around in the ocean, next to some colorful tropical fish, for a couple of days until it arrived fully swollen up and with a nice stinky smell at the main reef of Haad Yao Beach on the west coast of Koh Phangan's Island of madness.
The reef at Had Yao beach is, by the way, also quite famous for its snorkeling and diving adventures which you should of course directly book online at Haad Yao Divers, as they are one of my customers, offering excellent diving and snorkel trips! And it's, of course, always a good idea to make some advertisement to develop long lasting customer relationships … hahaha 😉
Anyway … the dead Burmese body was later rescued by the Rescue Service Team of Koh Phangan. Wrapped up in a nice plastic bag and send to some place who knows where?
Is this case probably connected to that other Burmese guy who got killed at Thong Nai Pan Beach a couple of months ago, as Koh Phangan Island News reported earlier?
Well … murders … people killed or shot … this actually happens quite a lot here on the hidden island in the Gulf of Thailand. But it's mostly island gossip and not approved by island officials, who, of course, do not want to talk about murders in public as it probably could somehow affect the number of tourists traveling to the island of murders and dead bodies … aehm … island of paradise in the Gulf of Thailand 😉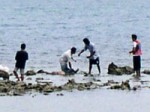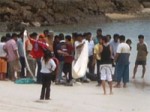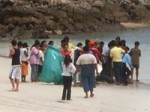 So … of course, murders and dead people that happens everywhere! But if start thinking about murders and stuff then there pops up this Yaa Bah dealer who got shot next to 7/11 Baan Tai a couple of months ago. Then we got that taxi mafia guy killed some weeks ago at the world famous full moon party at Had Rin beach Koh Pangan.
Then I heard that other story about some taxi driver shootings at Haad Yao beach. Then this next gossip story about a Thai guy, also at Haad Yao beach, running after a dog with his gun, shooting and trying to kill the dog because the bloody dog dug some holes next to his massage hut at the beach. All that happened during day time and if you were lucky you could actually see the wild, wild charming east while enjoying your afternoon sunbath at world famous paradise island Koh Phangan. ISN'T THAT AMAZING? Like they say … AMAZING THAILAND 😉
But like I said … it's all only island gossips and rumors 😉