Thai killer suspect confesses killing of British tourist on Koh Phangan Island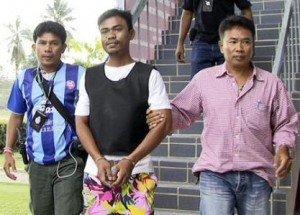 The man suspected of killing Stephen Ashton allegedly confessed on Wednesday that he unintentionally shot the British tourist early in the morning of New Year's day, police said.
Royal Thai Police adviser Pol Gen Rachot Yensuang, who interrogated Ekkapan Kaewkla on Wednesday, said the 26-year-old suspect had admitted to all charges against him and apologised for causing the death of Ashton and damage to tourism on Koh Phangan.
Pol Gen Rachot travelled from Bangkok to Koh Phangang in Surat Thani province to oversee the case.
Mr Ekkapan was initially charged with premeditated murder and illegal possession of a weapon.
Pol Gen Rachot had instructed police officers to provide better safety measures for tourists visiting Koh Phangan and Koh Samui. All tourist and entertainment venues on the islands must be free from firearms, he said.
"Any officers found to be negligent in their duties will face severe disciplinary action," he warned.
Ashton, 23, was dancing with his friends and several hundred other tourists in the New Year countdown party at Zoom Bar on Haad Rin when he was shot by a home-made gun shortly after 4am on Tuesday during a fight between two rival groups of Thai men.
Pol Col Kittakarn Kramomthong, chief of the Koh Phangan police station, said Mr Ekkapan told police he was not drunk during the fatal shooting incident and he carried a gun because his opponents had threatened his life. The fight erupted after Mr Ekkapan and his friends came across the opponents at the bar.
"My group was outnumbered so we ran outside the bar. I drew out a gun and fired a shot into the bar aimed at my rivals. But it turned out that the tourist was hit. I'm sorry for the incident that occurred and I am ready to be punished for what I have done," Mr Ekkapan said.
Police in charge of the case obtained evidence by questioning witnesses and checking the footage of a security camera at the bar. Mr Ekkapan was arrested hours later on Tuesday while he was hiding in a makeshift hut in a mountain near the beach, Pol Col Kittakarn added.
Wannee Thaipanich, president of the Phangan Tourist Promotion Association, said she felt regret for the family of Ashton. She said police were focusing only on searching for illicit drugs and paying little attention to guns. "It's time for police to seriously make tourist places free of firearms," she added.
Original article with friendly support from Bangkokpost