Koh Phangan Island Orion Boat Tour Cruises to Angthong National Marine Park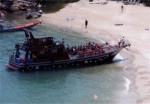 Orion, built in 2005 in Surat Thani, is a 22 metre cruising vessel, designed with comfort and speed in mind.
Orion offers cruises to Angthong National Marine Park, to see virgin beaches, and unspoiled nature. Here one is able to see these beautiful islands, as yet untouched by development and commercialism, cruising between the islands, enjoying incredible views of Thailand's most beautiful islands and beaches.
On Koh Mae Koh we visit the beautiful emerald lagoon 'Talay Nai', surrounded by steep rises of limestone rock, the scenes here are breathtaking. Snorkelling in crystal clear waters at Koh Wow, one is able to see many beautiful tropical fish, and marine life.
Fully equipped with cooking facilities, bathroom, shower, a top deck for those wishing to be in the sun, and a deck below to escape from the heat, Orion is a comfortable cruising boat where one is able to sit back and enjoy the scenery.
For the more adventurous is the 500 metre climb up the central peak of Koh Wua Talab, from here one has a birdseye panoramic view over the whole National Marine Park, and on clear days, one is able to see over to the mainland.
Tours include pick up transfer to and from your resort. Buffet Lunch and soft drinks are provided on board, fruit, tea and coffee. Good quality snorkeling gear is provided too, and life jackets. 200 Baht entry fee is included in the price.
For a full schedule please visit Phangan Boat Trips or send email to orion@phanganboattrips.com
Orion is available for private hire, fishing trips, for parties or Wedding Functions. Tours around Koh Phangan, Koh Tao, or Angthong National Marine Park.