Restaurant Peppercorn Steaks & Salads close to Laem Son Lake on the Island of Koh Phangan
Freshly opened since a couple of weeks here on Koh Phangan Paradise Island is the new restaurant Peppercorn which offers delicious western food like beef, lamb and pork steaks & salads, schnitzel, goulash, Italian pasta and also vegetarian food.
Our friendly host and chef Friddi from Peppercorn first started his tropical career here on the island of madness, called Koh Pha-Ngan, about 5 to 6 years ago as a dive instructor at Haad Yao Diver Koh Phangan which offers, by the way, excellent PADI Courses and Scuba Fun Diving Trips in the Gulf of Thailand.
Then a couple of months ago, Friddi read those fascinating articles in the Asia Dive Magazine, saying 'Divers die younger!' and 'Too much diving can lower your sperm activity by 67%!' and suddenly he decided to change his master agenda and focus on a more safe and secure business opportunity.
So the Restaurant Peppercorn was born and Friddi's sperm activity went up to normal again. Awesome!
The Restaurant Peppercorn is open 6 days a week, closed on tuesday, and offers daily specials like German Sausages (Thüringer Rostbratwurst) with potato salad for a very affordable 140 Thai Baht only.
Becki already went twice there with some friends of mine and can personally recommend the schnitzel with mushroom sauce. A Jägerschnitzel like we say in Germany. Last night Becki tried the Lasagne 'Original Friddi Style' and it was indeed yum yum as promised in the menu. Though Becki would have really appreciated a bigger portion as it was so delicious.
As a starter the tomato soup with garlic croutons and fresh cream is always a good choice. For vegetarians Becki can recommend the tomatoes stuffed with spinach, feta cheese, au gratin and baguette. Becki hasn't tried the Peppercorn Steaks and salads yet but if there's someone out there who did then please feel free to post a comment – thanks!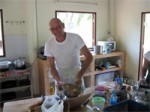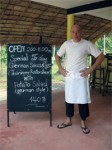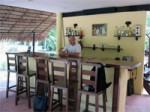 Please check out the Picture Gallery => Restaurant Peppercorn Steak & Salads Koh Phangan Island
So finally a two thumbs up for our chef Friddi at the Peppercorn Restaurant and hopefully this article will send him lots of satisfied customers and produce a massive discount for Becki at his next dinner for the great public advertisement on Koh Phangan Island News website.
Though, two minor issues just pop up in my mind. First the lightning upstairs could be a bit more improved as Becki could hardly see the delicious food. Or was it just a tasty cockroach? And second some cushions on the wooden chairs would improve the general feel after a good meal 😉
The Restaurant Peppercorn is located next to the North West coast on Koh Pha-Ngan Island just next to the Laem Son Lake. Just follow the road on the west coast towards Haad Yao beach and then at the Laem Son Lake just follow the junction which brings you to the hospital road heading towards Mae Haad Beach on the north coast of Koh Phangan. Peppercorn is located half the way down on that junction road.
If you get lost or confused or just having a bad day finding this awesome Peppercorn Restaurant then please feel free to call 087-8964363 and Friddi will be more than welcome to guide you to the right location.
Or you could even send Friddi an email to f.peppercorn AT yahoo DOT de if you would like to place your online reservation.
Well … there's still this address written on his name card. So probably this might also help:
Restaurant Peppercorn
Steaks & Salads
Friddi Heidelbach
21/8 Moo 8
Srithanu
84280 Koh Phangan
Happy Peppercorn Dining 😉