Elephant Trekking Safari in Chaloklum village on Koh Phangan Island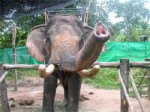 On my recent ride to main fish stinking village Chaloklum, at the north coast of Koh Phangan island, Becki discovered another exotic experience named Koh Phangan Safari – Elephant Trekking!
The exotic experience is located a bit before Chaloklum village just next to the road. You just can't miss it. Once discovered and realized that this is not a dream, Becki had to stop and go for a friendly chat with those fascinating, giant & massive animals.
Altogether there are four elephants hanging around directly next to the main road to Chaloklum village. The tiny elephant baby is called 'Champ' and I think he will surely be a champion when he grows up. 'Noo Mai' means bamboo and that's how they named the lady elephant directly at the entrance of the safari zone. Then they got two other male elephants called 'Boo Tan' and 'Thong Daeng', which somehow reminds me of King Bumiphol's dog also named 'Thong Daeng'!
Well … can't exactly remember the age of our lovely fellows but one must be 60 years and another one was something with 16 years. Anyway, they are quite impressive and lovely animals and it's really fascinating to see how they use their trunk. Also very impressive were the portions of shit they produce. MASSIVE!
Please check out the Picture Gallery => Koh Phangan Safari Elephant Trekking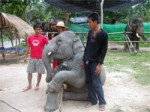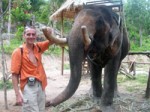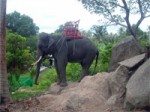 Koh Phangan Safari & Elephant Trekking seems to be open every single day. They offer tour programs up the mountains in Chaloklum area and the exotic experience costs you 500 Baht for half an hour. 800 and 1000 Baht for 1 hrs and 1,5 hrs. If you now can't stop thinking about elephants and are sort of desperate then please dial the Ko Pangan Safari direct number 06-1208693 or 01-8953783!
Have fun and enjoy your ride 😉