Som Tum Inter – North Eastern Thai Food Specialties on Koh Phangan Island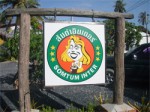 For all of you North-Eastern Thai Food specialties lovers there's a newly opened restaurant which serves delicious Isaan food and other hot dishes from the north-east of Thailand.
They got a least 7 different kinds of Som Tum – a salad made of green papayas – on their menu. Haven't tried all of them yet but the ones I tried were really delicious and in a constant good quality which is sometimes very hard to find on this island. Other things you should try in this place are "Naam Tok Muu" – a spicy pork salad with lime dressing. "Kooh Muu Yang" – barbeque pork with spicy dipping sauce. Or "Muu daed diau" – deep fried sun dried pork with spicy dipping sauce. And don't forget to order some sticky rice too 🙂
The staff at Som Tum Inter are mainly lady boys and always ready for a small flirt with some rich farangs guys. So … to really get the best food there I just recommend acting a bit gay, give some nice smiles and eventually start flirting while ordering your food. And believe me this always works and best food quality is guaranteed 🙂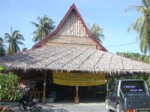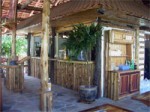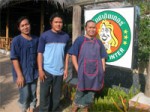 Som Tum Inter is located between Thongsala and Baan Tai on the way to Had Rin beach. The small village is actually called Baan Hin Song Gon and has its name from two rocks somewhere at the beach. Just look out for a blue petrol station called "POil" in the Ban Tai area and then you're just a couple of meters away from SomTum Inter. Or just ask a taxi driver they should know where to find it!
So enjoy your food there and try to remember that "pet nit-noy" means a little bit spicy otherwise you might spend another hot session on your toilet the next morning 🙂