Koh Phangan Paradise Island is missing on world satellite map!
Well, this piece of explosive information about Koh Phangan Paradise Island has been cruising around in my mind for ages and I actually never found the time to publish it here on Phangan Island News Website.
Nationalgeographic.com – the website of the national geographic society offers a World Satellite Map with a view of Earth's physical detail from space. This is the most accurate map of the Earth's surface ever produced from satellite data. This computer generated composite world map draws from more than 500 images to give one-kilometer detail and consistent representation of natural colors.
Sounds quite impressive but the awful truth is that there's still something missing on the most accurate World Satellite Map! If you take a close look at the map you can easily locate Thailand and the big islands on the west coast like Koh Chang and Koh Phuket. At the east coast there's Koh Samui, the Anghtong National Marine Park and Koh Tao.
But where is Koh Phangan Paradise Island? Why is the world's most beautiful Island not shown on the world's most accurate map? What is going on here? Some more secret society? Illuminati? Conspiracy theories? Aliens? George W. Bush? Klingon? Or is it probably again just another dream?
The shocking fact is – Koh Phangan Paradise Island is MISSING!
Well, should we all start going mental and nuts? Or should we just be grateful? Hmh … in case of a nuclear holocaust all the navigation stuff would be done via satellites. So there would be nothing to aim at. We somehow actually don't really exist 😉 And that's a great advantage, isn't it?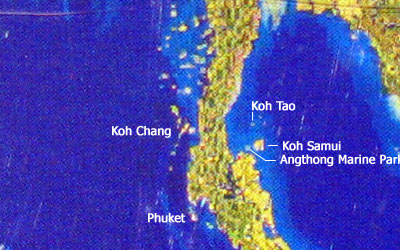 Another strange thing I discovered over the last couple of years is the T.V. reception on those Ferry boats which run daily to and from Koh Phangan Island. Just a couple of kilometers before the island there's actually no T.V. reception at all on the ferry boat for about 30 seconds. It happens always exactly at the same location with exactly the same results.
Indeed strange things are happening here on the other site of the globe!
So … what's this all about? Was it just another cloudy day when the satellites took the 500 pictures? Was it just another malfunction T.V. set?
Or are we indeed living under a protection cover here on Koh Phangan Paradise Island? An electro magnetic field which protects us from the daily global insanity? Is Koh Phangan Paradise Island one of those 'magic' places with that special kind of 'energy'?
Please don't hesitate a second and contact us if you can provide some useful information about satellites, malfunction T.V. sets or electro magnetic protection shields. Also, if you have recently been in contact with strange 'life forms' around Koh Phangan area then contact us immediately. Any information send to us will be treated highly confidential – thank you!
A big THANK YOU goes to our undercover agent EinTom from Strinz Trinitatis for providing Island News with the digital pictures of the satellite world map. Eintom's version of the GEO world map is a couple of years old, so any updates about a newer version are more than welcome. Please feel free to contact us if you have any further information!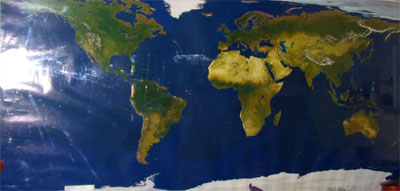 By the way, the pictures were not modified with Adobe Photoshop to fit the story. It's just the Awful Truth 😉