The Jam Bar – Live Music at Hin Kong Beach on the Island of Koh Phangan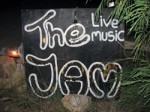 Welcome back to Koh Phangan Island News, the most negative 😉 and most controversial web site reporting the awful truth about the Island Of Madness, formerly also known as Koh Phangan Paradise Island.
Finally, after a few light years have been passed by, our team of non-corrupted douche bags at Koh Phangan Island News Headquarters managed to check out the most recent hype on Koh Phangan Island.
The Jam Bar – Live Music on the Beach!
The Jam is located directly at the beach along the west coast of Koh Phangan Island in the Hin Kong area, between Wok Tum and Srithanu, just after the bridge. You won't be able to miss it as there are tons and tons of motorbikes parked next to the road and some red lights & signs try to grab your attention.
The Jam became quite famous here on Koh Phangan Island and has developed over the last few months into a meeting point for musicians from all other the world. The Jam offers a full stage setup with drum kit, electric guitar, bass, synthesizer, bongos and open mics. Everyone is welcome to perform at the live jam sessions on their open stage and please feel free to bring your own instruments and do not hesitate and join this awesome live music event.
Live music jam session at The Jam take place every Saturday starting early evening until late!
Actually our retarded team was indeed quite impressed by the mellow and laid back atmosphere at The Jam Bar. It really felt like some time travel back to the good old days here on Koh Phangan and it was a pleasant and welcome alternative to the usual techno war battlefields.
The musicians that night were really doing great playing some classics covers like Honky Tonk Woman, Knocking on Heavens Door & I Shot the Sheriff from Bob Marley plus many more!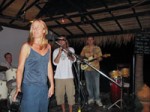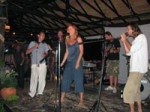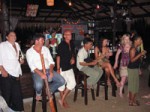 Again, the atmosphere at The Jam felt really great, relaxed and peaceful! You could enjoy drinking your beer and listening to some nice hand made tunes.
The Jam totally deserves a two thumbs up and if you like human made live music then you really shouldn't miss this live music event while spending your vacation on Koh Phangan Paradise Island.
If you need more details and updates about The Jam then you should bookmark the following link in your browser – thanks!