Confirmed Alien Sighting at Full Moon Party Koh Phangan Island September 2002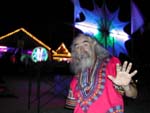 This ALIEN was spotted at the last Full Moon Party on Koh Phangan Island during September 2002. He is definitely from the Planet Zortron. Please also note the obvious paranoia at having his image captured. This is a distinctive Zortronian trait after years of imbibing electric cool-aid. He is classified in the genus : ANCIENTUS HIPPYUS. One of the original of his species no doubt. Alas nowadays there seems to be only wannabe Hippyus's (Hippyi) about.
This specimen claims to have actually seen Jimi Hendrix burn his guitar live at the Monterrey Pop Festival in 1967. When asked to describe this experience, all he could do was to mutter SANDOZ, SANDOZ, SANDOZ! The brave reporter from Koh Phangan Island News was fortunate enough to have captured the image of this alien at several points throughout the evening. Note the interesting effects the electric cool-aid has on his features as the night wore on.
Note: For those of you not old enough to remember, SANDOZ Laboratories was the manufacturer of Lisergic Acid Diathylamide, also known as LSD 😉