Half Moon Party Festival Koh Phangan charges 100 Thai Baht entrance fee!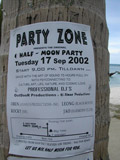 Dance with the art of sound – psy connect to culture, art, life, nature and cosmic love! Let us mix half moon for you – 15 hours full on …. till dawn!
Well… this is what Outdoor & Hi Times Productions proudly present on their party flyer to make you feel that you're invited to a really nice cosmic love sharing psy trance party! But once you arrive at the so called cosmic sharing whatever party zone in Baan Tai village you might start to realize that they somehow forgot to mention on their flyer that all the cosmic fun is actually NOT FOR FREE !!!
Intentional? Accidental? Accidentally on purpose? You be the judge! Really not a nice way to welcome all your psychedelic trance aliens. At least they should inform you about that tiny entrance fee – wouldn't that be fair enough? Well, if they don't – Koh Phangan Newspaper will 🙂
But I have to say once you were willing to pay the 100 Baht entry fee you're offered a free drink!
And, by the way, Thais don't need to pay they can enter for free – nice, isn't it?
Amazing Thailand – Welcome to the land of the smile 🙂
Sawadee Khap