Full Moon Party on Koh Phangan Island still alive in September 2004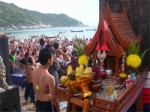 Full moon party things have definitely changed over the last 10 years and I'm still asking myself from time to time if this change was a good or a bad one?
But as nothing is more permanent than the change I think all these things were supposed to happen one or the other way around. So it was time again in September 2004 for another world famous Full Moon Party act here on Koh Phangan Paradise Island. And like usual the island was packed with tourists from all over the world participating in this real life party event at Haad Rin beach.
Arrived at the party scene around 4 a.m. and everything was like expected. Thousands and thousands of party hungry humans and aliens definitely celebrating the party of their life. Most of our anonymous alcoholic friends had already passed out as they normally do 🙂 That's also one of the reasons why I don't go too early to any full moon party as the AA friends really can be a big pain in the ass from time to time. So better let them get wasted first and start the fun later!
And also this time the full moon party had some surprises like usual! Just next to Tommy's Resort there was this sort of market stall with a big police sign in front and lots and lots of uniformed Thais. So I really had to go and check this out immediately 🙂 And after a friendly chat with one of my police contacts the whole situation wasn't that bad at all. The police invented this registration office in case a tourist gets robbed or any stuff is missing. Well, finally you're now able to file your full moon case but I still question that you will ever get your stolen stuff back. At least the police can use the data for some nice full moon statistics sooner or later 🙂
Please check out the Picture Gallery => Full Moon Party September 2004 Koh Phangan Island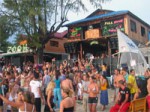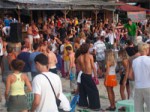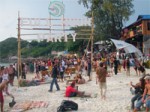 One thing which has definitely changed over the last 10 years is the increasing number of our Israeli friends. Sometimes I really think I'm in the middle of Tel Aviv as I'm totally surrounded by our Hebrew community. Well, I also sort of understand this. Who the hell wants to stay in a country which is in constant war and terror since the end of the 2nd world war? Would you? Of course not! And therefore our Hebrew community shortly decided to overtake the Vinyl Club and officially announce it to their base head quarters here on Haad Rin beach 🙂 Probably Haad Rin village should think about making a partnership with Tel Aviv. Would make sense 🙂
Another highly interesting fact is the increasing number of Thais joining the full moon party event. They somehow decided to build their head quarters next to our Hebrew friends in the Zoom Bar. The techno at Zoom Bar is therefore mainly mixed by Thai disk jockeys providing progressive rhythms and hardcore beats. Well, a bit too hard and dis-harmonic for my musical taste 🙂 And as soon as the sun gets up at the horizon the Zoom Bar area felt quite tense and strange to me. Most of the Thais there were totally drunk … wasted … and in hot emotions. 'Djay roon' as the Thais call it. Perhaps mainly produced by an overdose of alcohol and probably some Thai amphetamines called 'Yaa Baa' – the drug that makes you go mad 😉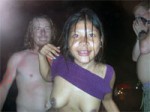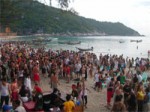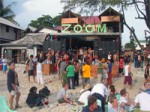 A bit later two Thai clans from Koh Samui were having arguments about a lovely Thai girl and the whole thing ended up in a fight like in most cases. And the really bad thing about Thais having a fight is that you never know when someone takes out his gun to finally finish these shitty arguments and get rid of the enemy. Well, it already happened once a couple of months ago and as far as I see things it's just a question of time. I for myself felt very uncomfortable at Zoom Bar surrounded by drunken Thais as you never know who is loosing the plot next. And I really don't want to catch up a bullet early morning at the Full Moon Party. Would you?
Once a Thai friend even asked me how we foreigners actually manage to party and get drunk every month without having big fights or even gun shootings! And if you really look at some local Thai festivals on this island … well … sometimes they just shoot each other … just because we're here still living in the wild wild west 🙂
Anyway … what else to say about this month's full moon party? The usual stuff I would say. Paradise Bungalow was playing again this boring house or whatever you would like to call it music. Not many people there … who would have expected that if the music is soooo boring. Now I have to say that this is just my personal opinion otherwise DJ Flux starts posting nasty comments here on this website – he he he 🙂 Other people probably totally enjoy the relaxed house music at Paradise Bungalows!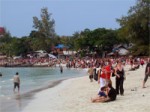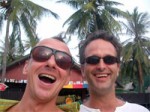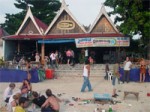 Then there was this English guy totally on ecstasy and just having a wonderful time with his video cam and interviewing all the full moon lunatics. He was sort of totally out of his brain, totally sweating and totally big ecstasy eyes and also totally enjoying his trip 🙂 And I totally caught him with my digital camera and he finally ended up in the picture gallery for this month – he he he!
In front of 7/11 junk food store I found this other guy totally wasted and sitting in his freshly puked up full moon dinner. There I once again had the idea to install a web cam at 7/11 and post the best pictures at a website called www.drugabuse.com 🙂 Could be a nice and interesting project for the future …
Drop In Club, Cactus Bar, Orchid and all the rest pretty much the same. Lots of happy humans dancing and enjoying the party of their life. Later that morning picked up and brought home by lots and lots of very happy taxi car drivers who had made their income for this month in just one night 🙂
So … detoxicate your bodies … detoxicate your brains and prepare yourself for next month's full moon party event here on Koh Phangan Paradise Island!
Wish you all the very best & have fun like usual 🙂