Thai man who shot dead British tourist Stephen Ashton during New Years Eve Party on Koh Phangan jailed for 34 years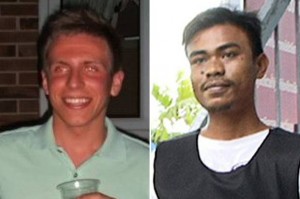 A 26-year-old Thai man who shot dead Briton Stephen Ashton during a Full Moon New Year's Eve Party on the holiday island of Koh Phangan has been jailed for 34 years.
Ekkapan Gaewkla who opened fire with a homemade gun on Haad Rin Beach on Koh Phangan, in southern Thailand on New Year's Eve 2012/ 2013 initially denied the charge but later apologised for killing Ashton, 22, a city trader from London.
The Thai man was involved in a gunfight a fight between rival Thai groups and Stephen Ashton was caught in the crossfire and shot in the stomach.
City trader Stephen Ashton was 22 years old and enjoying the party and dancing when he was caught in the crossfire following fight between two rival groups of Thai men. After being shot in the torso he was rushed to Bandon International Hospital where he was pronounced dead. He was on a gap year with friends at the time of the incident.
A letter from Mrs. Diane Ashton, Stephen's mother was read to the court:
"Anyone who resorts to gun crime is a cowards and a danger to society. It was inevitable that someone would be killed or seriously injured that night when Ekkapan Kaewkla discharged his gun on a crowded public beach which was full of young men and women enjoying the New Year celebrations.
"His actions demonstrate that he is a danger to the community and to the thousands of visitors to Koh Phangan Island which relies so heavily on the income that tourism brings to it.
"Ekkapan Kaewkla killed my son that night. Stephen was an innocent 22 year old young man who had a life of happiness and fulfillment ahead of him. Stephen's death has had a huge impact on his family and the many friends who miss him dreadfully every day and we have to endure the grief of such a tragic loss for the rest of our lives.
"Stephen was vibrant, talented, hardworking and a respectable young man. He was everything that Ekkapan Kaewkla is not."
Thank you to London Evening Standard "Thai man who shot dead Briton Stephen Ashton during Full Moon Party on Koh Phangan jailed for 34 years" which was brought to us by Google Alerts.