Local Thai Protest against International Airport on Koh Phangan Island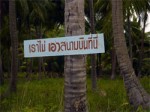 Since at least 3 years there has been going the rumor around on Koh Phangan Island from time to time that the local authorities of the district office in Suratthani are planning to build an International Airport here on the paradise island of Koh Phangan!
Yes … you heard perfectly right and the airport gossip seems to become more and more a reality! Recently our reporters found some protest signs from the local Thai community along the west coast between Wok Tum and Srithanu village. Unfortunately the 3 signs are only written in the Thai language but Koh Phangan Island News has decided to publish the English translation 🙂
One sign says "Rau Mai Au Sa-Naam Bin Thi Nii" and it just means "We don't want an airport here!" The other protest sign tells you "Thi Choo Ruea – Mai Chai Thi Choo Ruea Bin" and means "This is a port for boats and not for airplanes!"
Well … it looks like that also the local Thai community from Koh Phangan is not very happy about the airport gossip. And who wonders – especially since there are already two airports in the Suratthani Province. One on the neighbor island of Koh Samui and another one on the mainland in Phun Pin just next to Suratthani. So …. the question is => Do we really need another airport here on Koh Phangan Paradise Island ???
At the moment Phangan Island News is still waiting for some documents with more detailed information about the airport project. So … More coming soon … 🙂