Miss Toon Narak – A local chick from Koh Phangan Island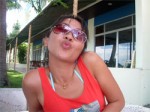 Hoooo … recently some people contacted me and asked or sort of complained about the "mostly negative" articles posted on this website. Well … it's not that I make up these stories in my mind .. all of this is actually happening here and so I just inform the public about.
But probably you were right … he he he 🙂 … and I should concentrate a bit more at the "positive" funny site of this island.
So … let's just introduce Miss Toon Narak a good friend of mine I know for quite some years now. "Narak" actually means "lovely" and describes Miss Toon perfectly. She has a lovely smile, good sense of humor and is always in a good mood ready for a laugh. Working with computers, especially Windows XP, is her hobby and work.
Miss Toon is originally from Koh Phangan Island and also runs an email shop just at the end of Thongsala town. If you need to check your hotmail account or need some photo-copies then please don't hesitate and give her a visit! She's totally wild about her, I don't know how many, dogs! Likes to go to the Full Moon Party for a hot dance and probably you might see her next month at the party.
If you accidentally run into Miss Toon Narak here on Koh Phangan then please say hello or something funny – thanks 🙂 Enjoy the pictures below …… & always have fun!