Sea View Bungalows Resort Thansadet Beach Koh Phangan Island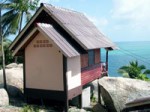 Newly opened since a few weeks is the Sea View Bungalow Resort at Than Sadet beach. The resort is located up the hill on the left side to Thansadet beach. The Sea View Bungalows offer cheap and nice accommodation with single & double bed bungalows for about 300 – 400 Thai Baht per night.
The secluded location makes it a perfect place for nature lovers and people who need to relax for a while far away from the crowds! Here you can relax within the tranquil setting and have access to the unique local Thai culture, lush tropical jungles and some of the most beautiful and secluded beaches in Southern Thailand.
The terrace at Sea View Bungalow Resort offers astonishing ocean views & a light breeze the whole day plus a fantastic view over the Gulf of Siam. Here you can savor a range of inexpensive dishes including traditional Thai soups, curries and noodles. Fresh and delicious seafood's, mouth-watering fruits, salads, sandwiches or even vegetarian dishes.
Just a 10 minute walk down the hill and you're ready to go for a swim or just take a sun bath at Thansadet beach. The Thansadet waterfalls are also not that far away and are worth a visit, of course. Here you can take a refreshing bath in the natural pools made by mother nature. And for all those who are too lazy to walk a bit Sea View Bungalow Resort also offers a free transport from and to the beach two times a day!
The Sea View Thansadet Resort is run by Jiab and her husband Mr. Pock both local Thais from Chumphon. If you need more information about bungalows & availability then just check out their website at Sea View Bungalow Resort Thansadet Beach Koh Phangan Island – thank you 😉