Full Moon Party Koh Phangan – Be aware while you party … danger lurks!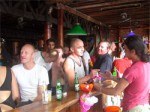 Just a warning. The full moon party at Hadrin Beach on Koh Phangan Island can turn into a very bad experience very quickly. Please be aware of who you are with, what you are taking and remember, you are guests in a foreign country, someones home!
I spent one Full Moon Party at the Cactus Club to see what all the rave was about. Sitting quietly at the bar I was attacked by a dis-grunted local Thai with a bottle of vodka. They don't use pain killers when they stitch you up!
Try to respect the fact that Thailand is a Buddhist country and that the Full Moon is a sacred day.
Please … enjoy, be happy but be aware!