Visa Run from Koh Phangan Island to Ranong and Burma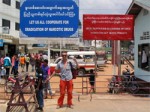 So … this article has been in my mind for ages now and finally I have found the time to write and publish it on Koh Phangan Island News! I went to Ranong for a visa trip a couple of months ago together with my very good friend Tom from Strinz Trinitatis who comes to Koh Phangan every year once it starts to get cold in Germany. What a wise decision 🙂
Anyway, we decided to hit the road with our own motorbikes, a Honda Dream 125cc and Yamaha 125cc, as it would offer us more flexibility. We could have a break where ever we want to and this idea sounded great! But after all I have to admit that it was really sort of a torture I will never forget. You can't imagine how long 240 km can get if you sit on one of those so called "lady bikes" driving an average of 80 km/h ! You can't imagine how painful and sensitive your bottom gets after sitting for 6 hours on one of these motorbikes! You can't imagine how many different sitting positions you will find and try out just to make things a bit less painful 🙂
However … Ranong is located at the west coast next to Burma and is the nearest Immigration point from Koh Phangan. And as we are all foreigners – or "farangs" how they call us – we frequently need to visit one of those Immigration check points to get our Thai visa renewed or just get another 30 days by leaving and entering the country again. So why not go to Ranong as it is the closest place to Koh Phangan?
Ranong can be easily reached by one of those Travel Anger Mini Bus Roll 'n Crash Tours which offer you a one way ticket from Suratthani to Ranong for about 120 – 150 Baht. Prices can of course be more expensive like usual as it is a real competition under the Thais to get the most money out of us walking ATM machines 😉
Some of these Roll 'n Crash Tours operators are also offering this special "Ranong Visa Trip – Be Back On The Island The Same Day" package for a very reasonable price of 1500 or up to 3000 Baht! Just go and ask your local tour operator for more detailed information about that very special offer.
Please check out the Picture Gallery Visa Run Koh Phangan Ranong Burma – thanks!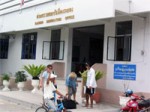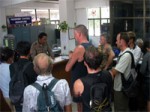 Once you somehow managed to arrive in Ranong you might start realizing that this town has nothing special to offer. The usual Thai food markets with some of them offering quite tasteful local Thai food for cheap prices. Some guest houses, some tiny hotels but at least a couple of 7/11 shops where you can get all the 21.st century junk food and do something good for your health.
At least it was possible to find a café with some good cappuccino and ice cream. The place was called Double DD and we spend most of our Ranong time in there drinking cappuccino like usual 🙂 And please don't try the pizza there – it was far away from delicious!
The Ranong Immigration is located a bit out of the main town just on the way to the port where you can catch the boats to one of the nearby islands like Koh Chang or Koh Phajam or any other Koh in that area. Lucky as we were that day the Immigration was fully packed with at least 15 farangs waiting for the departure stamp. It took us at least 1 hour to pass this ceremony and finally receive this necessary stamp in our passport. Great! The next step was then to get to the pier and catch a boat to Burma. And as Ranong has a really big port divided into lots and lots of small ports with all these different names it took us quite a while to find the right one. But no worries there are lots of friendly Thais directly waiting at the Immigration Office with a very special offer guiding you the way to Burma 🙂
And for all of those who think that this is far too much hassle then just look around in Ranong for that special Visa trip arrangement. It costs about 300 Baht per person and includes the transport to the immigration and then to the pier where the boat to Burma is already waiting for you. After you come back from Burma they bring you again to the immigration for another arrival stamp and finally back home to your guesthouse or hotel. The 300 Baht ticket does not include the 5 US dollar fee charged by the Burmese immigration! But you can easily get a 5 US dollar bill at the pier for 300 Baht at very bad exchange rate 🙂
Well the boat to Burma normally costs 300 Baht per trip but prices are subject to change without any notice. 300 Baht is for the whole boat so just try to make some friends who you can share the boat with. The more people you have the cheaper it gets for every person. The boat trip to Burma takes about 45 minutes one way and can get quite hot if the weather is nice. So best think of some sun cream or you might end up being sun burned!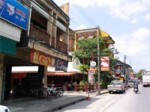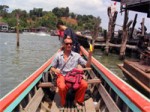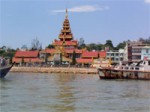 After 45 minutes you will arrive at the first Burmese immigration check point where you will receive your Burmese arrival stamp in the passport and also have to pay this 5 US dollar bill. And they only accept a 5 US dollar bill. There's no change at all! The immigration office is just a tiny hut with lots of boats waiting in front of it. I just thought it might collapse any second so I was happy to leave this place after a couple of minutes.
Then the journey goes on to the next immigration check point hunting for the final Burmese departure stamp. Once you arrive there you will be surrounded by lots of Burmese kids asking you for a couple of Thai Bahts and offering you this very special Viagra made in Burma 🙂 Well if you really trust in the Burmese medical research system then give it a try or just think once again what am I doing here!?
They are also offering you to buy as many cigarettes as you can carry on your way back home. A box of cigarettes is offered in the first place for 250 Baht and I finally decided to buy one box of "Golden Triangle" for 150 Baht. But think you could also get them for 100 Baht. And the "Golden Triangle" tasted exactly like they have put all the rest tobacco from three different countries in just one box and put a filter at the end. Just a scratchy, itchy, smoking and coughing experience – better don't give it a try 🙂
The Burmese immigration office was tiny again but with a friendly Burmese officer in it to give you the final Burmese departure stamp. Juhee! Then back on the boat again for another 45 minutes ride back to Thailand using another coat of sun cream as it was really hot that day. From the Ranong pier directly to the Thai immigration to receive our last and final arrival stamp in the passport on that multi cultural day 🙂 We left the Thai immigration about 2.30 p.m. and the whole visa run took us finally about 4 hours and it was sort of a torture on that very hot day. But once we were sitting again at "Double DD" for our cappuccino the whole visa story already belonged to the past!
We stayed at Tanatwan Palace and this seems to be the place where most farangs are spending the night while in Ranong. The rooms are okay and sort of clean. Air Conditioning and cable TV for about 500 Baht per night. They also have a swimming pool which is free for guests and makes this place quite interesting. Can't tell anything about the food there as I normally avoid eating food in these places as you will normally get no real Thai food and no real Farang food. It's just a bad mixture of Thai and Western food! But everybody has a different taste so give it a try if you feel like.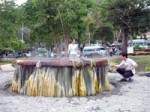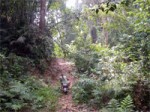 Though Ranong town is quite an average small Thai city it has some nice things to offer and is worth staying a couple of days to explore and investigate a bit. Ranong is well known for its Hot Springs which are located just a few minutes out of Ranong town. And there's not only one Hot Springs around in that area and you really should go and give it a try. They say these Hot Springs have healing powers and there must be a reason why all these people come here regularly.
Then there are some Health Spas in that area and it's always a good idea to go for a sauna, hot steam or a bath in the water from the Hot Springs and do something healthy and relaxing for your body, especially after a long visa run 🙂 Ranong Canyon is also worth a visit but is a couple of kilometers out of town and best would be to rent a motorbike for that occasion. Ranong also has still lots of healthy jungle to offer with lots and lots of waterfalls in any tiny corner. Just follow one of the hundred signs guiding you to Mother Nature secret places.
After all I have to say Ranong is worth a visit and has some funny and interesting things to visit. Give it a try and check it out 🙂
But for the visa run I might better stick to the Malaysian border and Padang Besar even in times of Muslim terror attacks. It's far more comfortable to sit in an aircon mini bus most of the time as to jump from bus to boat and boat to bus and pay the additional 5 US to the Burmese mafia!
Anyway .. however … that's it for the moment! Wish you all a nice visa run and enjoy life to its MAX 🙂 !!!