ADSL Internet Report Koh Phangan – CAT Telecom, TOT, TT&T Part3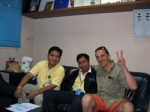 And again … welcome back to Koh Phangan Island News and the third part of our series called ADSL Report Koh Phangan – CAT Telecom, TOT, TT&T.
So the CAT Telecom cable guys left, sort of loosing their face as they had no clue about operating those high tech devices, and the next day Becki phoned CAT Koh Samui and asked the manager, Mr. Charun, if he's fucking kidding me?
Well … of course not fucking … just in a nice manner … but please don't send me over anymore idiots who don't have any clue what they are doing. Just send me a technician who knows about ADSL and is able to use this awesome device to diagnose the problem of the ADSL line.
And as miracles still also happen here on the Island Of Madness, next day in the morning Becki was finally able to personally welcome the CAT Koh Samui General Manager, Mr. Charun, himself at my place. Impressive!
Mr. Charun, finally a guy who really knows what he's doing, attached the high tech ADSL diagnose device, ran some tests, finally removed a filter box which was intentionally installed to improve the signal quality but actually did exactly the opposite, and then the ADSL line quality finally improved by an average of 40-50%.
Meanwhile Becki also had done some more ADSL investigations on the internet and fine tuned the Thomson Speedtouch v516i ADSL Modem and switched to ADSL1 type modulation only and since then the ADSL line runs perfectly stable and disconnects every couple of days, though CAT Telecom tells you they do a forced re-connect every 15 hours with my premium package.
Well … better not tell them about this one 😉
So finally, the only thing I can recommend to you once it comes to ADSL on Koh Phangan is the team of Mr. Charun from CAT Telecom. Yep … their service is a lot more expensive compared to the other competitors on the market. It might also need a few phone calls, a tiny bit of yelling 😉 but then you can expect professional service from guys who really know what they are doing! Well … except the cable guys, of course 😉
On top of that Becki now has a few direct phone numbers from the system administrators of the CAT nation wide network in Bangkok and they indeed do speak the English language and if you tell them about telnet, secure shell connections, p2p, ports, TCP/IP, ping and other awesome computer term like QOS, quality of service, they actually do know what you're talking about. How impressive is that?
Again, the price of 2600 THB / month is a lot more expensive than other ADSL providers but I'm always willing to pay more for professional service, which is what you need at the end of the days, isn't it? And in terms of speed CAT Telecom is the best as they don't throttle your P2P Torrent Client traffic, nor do they close outgoing mail port 25 as others do, and you always receive full speed during day and night, probably mostly to the fact that they don't have that many customers? According to Mr. Charun they got about 90 customers on Koh Phangan and around 400 customers on Koh Samui only.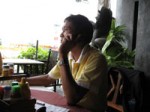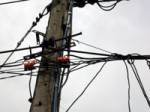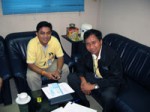 So I better don't make too much advertisement as more customers results in lower speeds!
And on my recent visit to Koh Samui Becki even met with Mr. Charun for a company paid western breakfast and we had a further chat about the mostly shitty copper cable installation, interference with electric transformers, street lights and other people simply messing with the copper wires by wrapping around their electric cables and doing lots of unbelievable typical Thai stuff.
For more details please check out the Picture gallery -> Koh Phangan Internet ADSL Report
So … again … a two … well let's say three thumbs up for Mr. Charun and his team from CAT Telecom Koh Samui. Please keep up the good work you're doing – A BIG THANK YOU for your service & help!
And last but not least we still got the TT&T guys with Maxnet, another ADSL provider on Koh Phangan. They recently setup another DSLAM in Baan Tai village within a short distance to my place but I haven't tried them out yet. If you guys have any experience with TT&T ADSL then please post a comment here and tell us about them. Agent Patrik from the Baancom Koh Phangan Computer Retails & Service Headquarters uses them since years and is mostly satisfied with their service and price for about 1000 THB / month.
Lastly we still got that IP Star satellite thingy but I think it is really not worth mentioning as the speed of 512/256 Kbits/sec is terribly slow and the price of 2.000 THB for the slow speed is simply just too expensive if you ask me. Then you even have to pay a setup fee of 8.000 THB! My friend Simon, from the Koh Phangan Bungalows Headquarters, uses this service since years and the internet speed is simply awkward! It's only worth recommending if you live in an area where you don't have access to a proper ADSL line!
Final conclusion: Money simply isn't enough! Knowledge is the key to success and power!
So that's it for the moment guys and girls … be nice to each other & enjoy your ADSL line as long as it works!
The Other parts of this series can be found here ->
ADSL Report Koh Phangan – CAT Telecom, TOT, TT&T Part1
ADSL Report Koh Phangan – CAT Telecom, TOT, TT&T Part2
ADSL Report Koh Phangan – CAT Telecom, TOT, TT&T Part3