ADSL Internet Report Koh Phangan – CAT Telecom, TOT, TT&T Part2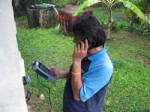 Welcome back again to Koh Phangan Island News and the second part of our series called ADSL Report Koh Phangan – CAT Telecom, TOT, TT&T.
So … after closing that disappointing chapter with TOT Becki went to look for another ADSL provider and finally found CAT Telecom which happens to have a DSLAM just next to my place in a distance of around 1.5 km.
Not sure how much you guys know about ADSL but the location of the exchange point, this co called DSLAM to which your ADSL modem connects to, must be preferably within a very short distance. The shorter the better!
Then Becki signed up with the CAT Telecom guys for a monthly fee of 2600 THB without VAT for a 2/1 Mbit connection and this might sound expensive compared to the other ADSL competitors on the market but what to do if there aren't any alternatives?
Anyway … because of the massive non existent donations our experienced team of douche bags constantly receives on Koh Phangan Island News for this nice & free public service I finally realized that I could afford this 2600 THB / month most expensive ADSL service in Thailand thanks to the generous help from my non existent financial supporters and their generous non existent donations to keep up the good work we are doing at Koh Phangan Island News headquarters – thanks 🙂
CAT Telecom. Sign up went easy though you still need a Thai person for the signature as CAT won't accept any foreigners unless you have a registered company in Thailand which we of course try to avoid as much as possible because of the obvious tax benefits. So farang no can do ADSL contract which leads us to another question -> Is Thailand indeed a racist country? But that's a whole other topic …
After a few weeks CAT finally managed to come over from Koh Samui and installed my ADSL line without setup fee but I had to sign up for at least 6 months. A minor shitty thing about CAT is that they don't have an office here on Koh Phangan Paradise Island so it always takes a few days until they send someone over from Koh Samui which can be a bit of a pain in the ass if you need things to be fixed quickly. Phone yelling might speed up things 😉
Once the ADSL line was installed internet service worked fine and the speed of 2 /1 Mbit was decent throughout day and night and I always received a steady download of 200 Kbyte with my torrent client during the day. Other ADSL providers seem to throttle the speed during the day as I never received full speed with them. CAT makes a huge difference here! Full speed day and night – awesome!
Then a few months later I suddenly started receiving constant disconnects with the ADSL line. Every 30 minutes, hour or so the ADSL connection just dropped and the re-sync process started again. Really annoying if you do torrent downloads as the IP address changes with every re-sync and you have to start looking for seeders and peers over again. Not that great ;-(
So a phone call to the CAT guys and 2-3 days later the CAT cable guys showed up. Well … these guys are of course cable guys and the only thing they can do is fixing the cable without having any idea how the ADSL technology works. So they checked the cable, reported everything is fine and left again. That's the usual support you mostly get.
But the cable check didn't actually fix my problem as I still was receiving lots of disconnects every hour or so …
Then early evening someone from the CAT headquarters in Bangkok phoned me asking about the progress of my complaint. And this actually is a nice feature from CAT Telecom. First you file a complaint via their hotline. Next they send you some guys from the nearest office and in the evening the headquarter phones you back again to check the final results. Awesome!
Nope … I told them. Problem still the same … constant disconnects … and the next day another CAT technician from Koh Samui came over and installed an ADSL modem given by CAT Telecom.
The modem was a Thomson Speedtouch v516i and I can really recommend this modem type as it is very well known to provide a stable connection on low quality ADSL lines. Keep that modem type in mind it's really one of the best ones I had so far. And there are some really awesome tools, DMT and STMT, on the internet which allows you to communicate with this modem and actually see lots of data about the quality of your ADSL line like, line attenuation, SNR margin, frequency band & gaps, etc, etc …
Anyway … even the new ADSL modem from CAT didn't improve anything and constant disconnects were still on my daily menu. And trust me it's annoying to always get disconnected doing Skype calls, torrent downloads, YouTube and that sort of stuff.
So another phone call to the CAT headquarters and a few days later the cable guys showed up again but this time with all those real fantastic high tech devices. First they double checked the cable again and made sure the connection points were perfectly isolated.
Then the CAT cable guys tried to diagnose the ADSL line with those fantastic high tech devices but it all just ended up in a big, huge disaster. And these devices were indeed really awesome – exactly that stuff you're looking for! You could diagnose the copper line, find problems in the cable, get details about the ADSL line noise, frequency band, frequency gaps, line attenuation and what not …
Really awesome device … only problem was the CAT Telecom cable guy had absolutely no clue what ADSL actually means or how to work with this device. What a shame! They got the proper equipment but sadly no idea on how to use it. Un-fucking-believable 😉
Which brings us finally back again to education! Money alone is simply not enough. You also need the right know-how, and of course a general interest, to understand things and get them done properly …
To be continued …
The Other parts of this series can be found here ->
ADSL Report Koh Phangan – CAT Telecom, TOT, TT&T Part1
ADSL Report Koh Phangan – CAT Telecom, TOT, TT&T Part2
ADSL Report Koh Phangan – CAT Telecom, TOT, TT&T Part3