ADSL Internet Report Koh Phangan – CAT Telecom, TOT, TT&T Part1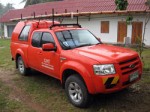 Welcome back to Koh Phangan Island News, still the one and only online magazine offering fresh, up-to-date and uncensored information about the island of madness in the Gulf of Thailand.
Well … Becki recently read a report about the current ADSL broadband situation in Germany and the final results were sort of awkward.
So why not publish a report about the current ADSL situation here on Koh Phangan Paradise Island?
First of all I have to say that I'm really more than grateful that it is actually possible to get an ADSL line here on Koh Pha-Ngan. In my point of view Koh Phangan Island is indeed directly at the end of the world, Thailand still is and probably will be a 3rd world country after all and surfing the internet via ADSL here on the Island Of Madness still looks like a big fucking miracle to me 😉 So … really thanks a lot for that service!
Well … don't we all still remember that noise from the funny dial up analog modem? Depending up the phone line quality we could receive a decent speed of up to 56 Kbits / sec … browsing the internet took ages and a login into world famous hotmail.com could eventually fill up your whole Koh Phangan holiday afternoon. Haven't these been fantastic times?
Then CAT CDMA made its way to Koh Phangan and Becki already published an article about that a few months ago. Actually a nice device if you're in a bad location where it is impossible to get a proper ADSL line. Bandwidth speed is triple of a modem with 150 Kbits/sec but torrent downloads still took indeed ages. As far as I remember CAT CDMA won't run that service for a very long time as they are currently in the process of setting up a new standard called the 3G Third Generation wireless communication technology with a max of 2.4 Mbit download or something like that. But even that might take another few years ….
About 2 years ago Becki was then delighted to hear that TOT, Telecommunication of Thailand, finally announced that they are going to provide ADSL in my region on Koh Phangan. Becki quickly signed up and a few days later I could enjoy the benefits of fast ADSL with a speed of 512/256 Kbits/sec – Awesome!
At first I was really more than satisfied with the service of TOT and the ADSL line ran stable without much disconnects and my torrent downloads were decent and there was really nothing much to complain. Price was also more than okay with approx. 700 THB a month.
Then after 6 months of stable internet the brainiacs at TOT decided to give a massive free speed upgrade to 1536/512 Kbits / sec to be able to be more competitive on the ADSL market in Thailand. Well … that smart move sort of collapsed the ADSL network of TOT and the ADSL line at my house experienced constant disconnects every 5 minutes. ADSL sync speed went down to next to nothing and my beloved times of fantastic stable internet were finally over – amen ;-(
Though, I have to admit that I was at the very edge of ADSL1 with a distance of 5 km from the DSLAM in Thongsala.
Then, as nothing works anymore, you start the process of TOT customer support. Only in Thai language of course, first friendly then a bit more firm and at the very end you find yourself yelling with a red face at one of the chicks of the TOT customer support center because nothing works and TOT doesn't show any interest in solving the problem. Probably they also don't have the proper ADSL knowledge? And then after a while you start realizing that this is simply not going to work out and also just not worth all that stress and constant threat of a high blood pressure 😉
The one and only thing that worked perfectly with the TOT guys was the arrival of the invoice in Becki's P.O. Box every month. Apart from that no one at TOT ever showed any interest in solving the problem, probably because of the non existing knowledge, and one thing I will always remember from the TOT hotline 'We're very sorry for any inconvenience this might have caused you!'
Well … don't be sorry just try to fix it!
But without proper education, the right ADSL knowledge and the general lack of interest in customer support this seemed to me more than a TOT Mission Impossible!
To be continued …
The Other parts of this series can be found here ->
ADSL Report Koh Phangan – CAT Telecom, TOT, TT&T Part1
ADSL Report Koh Phangan – CAT Telecom, TOT, TT&T Part2
ADSL Report Koh Phangan – CAT Telecom, TOT, TT&T Part3