Bottleneck bridge between Thongsala and Baan Tai finally gets upgrade!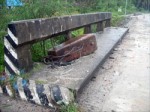 Looks like that the local Koh Phangan road construction administration is finally showing some brains and therefore decided to do an upgrade on the most used bottleneck bridge on this island.
The bridge construction area is located just in front of Koh Phangan's primary school directly after the 'Horny Mile' – the red light district of Koh Phangan paradise island. Hmh … is it really just another coincidence that the somehow officially NON existent prostitution industry is just placed next to the education system of this island? Well, let's focus on this subject in another article 🙂
However … this bridge is the most used one here on Koh Phangan as it acts as the direct connection from Thongsala main town to famous Haad Rin beach where most tourists on this island are heading for. Therefore also most of the taxis are using this bridge every single day. The main road just before and after the bridge also received a recent update and is in average a couple of meters more wide than the bridge itself 🙂
Well … and these differences in Thai measurements can lead to some very tricky situation in the high peak rush hour when everybody is trying to pass that bridge as fast as possible especially around full moon season.
And Koh Phangan Island news has at least one proven evidence showing that in some cases this bridge is definitely not wide enough. See picture below 😉 So let's all be very happy and grateful that the local road administration was finally putting some attention on this case. And hopefully over the time future road & bridge planning issues will improve and last longer than a couple of months before start rebuilding it again! Just because all you need from the very first beginning is a very good plan, isn't it?