Dr. Taeng Dental Clinic Baan Tai Village Koh Phangan Island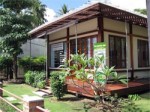 Newly opened since a couple of months, here on Koh Pha-Ngan Paradise Island, is the Dr. Taeng Dental Home Clinic in Baan Tai village.
Well … to be really honest … Becki is actually not such a big fan of any dentist around the planet just because I might have experienced some terrible childhood dental phobia trauma in my early years. But fact is if you don't visit those wicked dentists from time to time, usually they recommend you one dental check every 6 months, you might end up with some even bigger tooth scenario like root canal treatment and that sort of nasty stuff.
So … after hours, weeks and months of intensive arguing to myself that it might probably be an awesome good idea to go for a dental check again, as Becki's last dentist visit was more than a year ago, I decided to give the new Dr. Taeng Dental Home Clinic a visit for my annual teeth disaster prevention.
Dr. Taeng Dental Home Clinic is located directly at the main road in Baan Tai village close to the Baan Tai pier. There's a big dental sign next to the road so you can't really miss it. The friendly smiling guy at the reception is called Nong and within a few minutes Becki was sitting in the doctor's office … my mouth widely opened and softly re-experiencing my childhood dental phobia 😉
Now comes the scariest part when the dentist pokes around in your mouth with those wicked instruments on search of those tiny holes and caries spots. But actually Becki was really & totally surprised how careful and sensitive Dr. Taeng did her work. I didn't feel any pain or whatsoever and within seconds I felt safe, secure and sort of relaxed.
Please check out the Picture Gallery => Dr. Taeng Dental Clinic Koh Phangan Island
Have you ever been to those sadist dentists who really love to poke around deeply in your tiny holes and sort of enjoying this? I still can remember Dr. Sadist, another dentist on Koh Samui Island, who really seems to get a hard on while you are experiencing massive pain! Screw you Dr. Sadist 😉
Gratefully Dr. Taeng is not that kind of a person and Becki can only recommend her and her team with a two thumbs up! Pre-investigations also revealed that most of her patients seem to be satisfied with her work and service. At least I didn't hear any negative stories when asking friends around here on Koh Phangan Island.
Dr. Taeng Dental Home Clinic is open daily! Monday to Friday from 5.00 p.m. to 8.00 pm. Saturday and Sunday from 9.00 a.m. to 5.00 p.m. Offering oral surgery, filling, scaling, cleaning, dental prosthesis, root canal treatment, tooth whitening, dental esthetic & prevention. If you need to know more details or want to arrange an appointment then please call 077-238820.
Also available at the clinic's waiting room is a computer and wireless internet access! So if you need to wait a bit you can spend your time browsing the internet, e.g. Koh Phangan Island News.
Thank you and have a nice day 😉