Koh Phangan Monkey apologizies!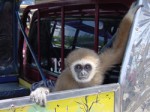 The monkey apologizes for his article titled "Trouble in Paradise" and admits it was gossip with no fact behind the story and is deeply sorry for writing such an article and regrets posting these false accusations at innocent people!
The monkey is the dickhead and has sunk low to write such and is deeply sorry for affecting such people with slander, apologizing to the people they have done nothing wrong.
The monkey also apologies to the French police for writing false and misleading information about these people.
I would like to ask the webmaster Becki to remove my story from the website as I retract all my statements as they are lies. This is a good website and my slanderous article has no right to be posted here in cyberspace.