Koh Phangan Motorbike for Sale – Special Limited Edition!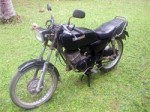 Well … did anyone follow the recent auction for the holy pope's VW Golf? Which actually was finally sold for about 200.000 Euro, just because our holy crusading pope Benedict Joseph Ratzinger personally did some decent test drives on public roads with that VW Golf?
That's indeed awesome 😉 And shows us again that modern civilization was probably a step towards a questionable direction! Anyway … this month on the hidden island menu …
A Motorbike for Sale! But that's of course NOT some of those average motorbikes you can find literally everywhere on Koh Phangan Island. NO … we got something very special – A Limited Edition ONLY!
This magnificent 'Black Beauty' of a Kawasaki GTO 125 cc actually belongs to a special and very rare production line of the Island News World Main Headquarters. This outstanding production line called RETardXX12 was especially designed for SWAT teams on field missions all around the globe.
So far ONLY 3 prototypes have been produced worldwide! Two of the prototypes are still on successful undercover missions in the Middle East and North America. Only ONE prototype has been released to Koh Phangan News Headquarters equipped with special extras and astonishing extensions to adjust to the island's special environment.
Please check out the Picture Gallery => Koh Phangan Motorbike For Sale – Prototype RETardXX12
RETardXX12 has successfully accomplished over 100 Full Moon Party Missions in the last 10 years on Koh Phangan Paradise Island. RETardXX12 is equipped with Night Vision & Infrared Goggles which can come in quite handy at night time and all its lurking dangers. AutoPilot is also included in the package and has been successfully tested and verified by some of our Full Moon Party After Hour Agents!
Never be disoriented again! GPS – Global Positioning System – is also installed by default on the prototype RETardXX12.
RETardXX12 also has the ability to camouflage itself by changing its color! No matter which environment you're in RETardXX12 will fine adjust color and paint with its integrated sensitive sensors to perfectly blend in with the natural environment. Under certain circumstances it might be possible that you won't find RETardXX12 immediately! If problems occur please use the mobile GPS system to reveal the exact location!
Sometimes things might also get a bit rough! Well, for these cases RETardXX12 is additionally equipped with 2 nice and handy FX12 Missiles and perfectly understands the SELF DESTRUCTION protocols as written in the users guide on page 23. For further details and usage please refer to the manual first!
Unfortunately we had to uninstall the TimeWarp 5 Extension due to some minor bizarre problems with recent beta testing. Still on board is the WarpDrive One & 2.5 which you can easily enable through the easy to navigate and simple to use Onboard Control Unit OCU.
The Terror Activity Sensors are enabled by default and if the system detects strange activity it simply just STOPS! Be warned!!!
RETardXX12 has also been touched SEVERAL times by Mike Hershman from the Republican Coffee House in downtown Thongsala. The incident was reported SEVERAL times and leaves us with no more doubts!
Last but not least! All special extras and stunning modifications have been integrated into RETardXX12 in such a unique way that it still looks like an average used motorbike. A normal educated human wouldn't see the difference – isn't that GREAT 😉
So … due to our recent upgrade at Koh Phangan Island News Headquarters to LUNAtic-OH-MadXX7, we have decided to give you the one life time opportunity to purchase our old prototype model RETardXX12 for an affordable & astonishing price of only …
123.45 Euro € (VAT included!)
All major Credit Cards accepted! Online Payments can only be directly done via our secure payment provider PayPal.com! Our verified business account at PayPal.com is stated payment AT beckspaced DOT com!
Please state codeword HALLIBURTON with the transfer so we can track down your payment. Also please transfer only the exact amount as written above – thank you!
WE ONLY ACCEPT ONLINE PAYMENTS VIA PAYPAL.COM! PAY NOW!
REMEMBER – there's ONLY ONE prototype model of RETardXX12 for purchase available! The winner is the one who sends the money first 😉 DO NOT HESITATE! This could be the very best day of your life 😉
If you start feeling like you could need some personal advice on such an urgent case then please dial +66-77-377 733 immediately! For more detailed technical information on RETardXX12 just call +66-01-5354506 – All calls accepted!
After successfully online payment you will receive further information from the Island News Headquarters!
Complete Product listing for RETardXX12:
* Only cash accepted!
* No delivery!
* No guarantee!
* No money back!
* No driving lessons!
* Registration Papers
* Insurance Papers
* Blue & Red Pill
* Users Guide
* Extension Manual
* OCU Onboard Control Unit Access Codes
* Airbag
* GPS Global Positioning System
* Satellite Upload Link
* Integrated Cell Phone (no SIM card!)
* Night vision & Infrared Goggles
* Auto Pilot Mode
* Warp drive One & 2.5
* Terror Activity Sensors
* FX12 Missiles (2 pieces)
* Self destruction mode
* Camouflage sensors
* Combat Mode
* Etc, etc, etc …