Koh Phangan Terror Alert – Haad Rin Beach removes public rubbish bins!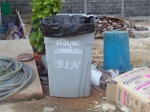 Because of the current High Alert Terror level in the south of Thailand the local Counterstrike Terrorist Unit of Koh Phangan Paradise Island has decided to remove all public rubbish bins at world famous Full Moon Party Beach Had Rin.
CTU Island officials recently announced that there is indeed a definitive threat in public available rubbish bins at terror area Haadrin Beach. Up to date terror statistics revealed that 67% of explosives were mostly hidden in public rubbish bins.
Therefore most of the rubbish bins have been replaced by those nice looking black rubbish plastic bags. You can find them widespread all over Had Rin area and they perfectly blend in with the natural environment.
Well, I asked myself, where is the difference? Hiding an explosive device in an original rubbish bin or a plain and simple rubbish plastic bag? Does this make any sense to you? If so then please call the number of the local CTU office on Koh Phangan Island and ask for agent Jack Bauer! +66-77-377114 – Codename INSANE – All calls confidential, of course!
Then while walking down the beach at world famous Haadrin Bay I suddenly realized that the whole situation here is somehow awkward. Hundreds and thousands of tourists and simply NO public rubbish bins available at the beach to dispose their personal matters like cigarette butts, plastic bottles or condoms. Do you actually know that it takes about 15 or more years for an average condom to break down and leak harmful toxins into the ocean? The condom itself then sometimes gets lodged in the throat of a fish, turtle and other marine life causing death! Did you know that 😉 So … ask yourself, am I part of the solution or the problem? DO SOMETHING 😉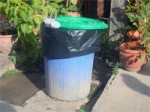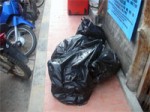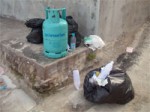 However, Thommy Resort at Had Rin beach sunrise side could be the next major location of terrorist activity as they STILL got public rubbish bins directly placed next to their bungalows on the beach. According to CTU island officials the current threat level there is INSANE 🙂
Have fun & breathe deep without any fear my dear 😉