The Original Phangan Scooter Rental Experience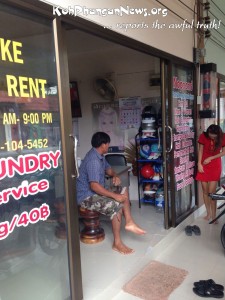 We had a terrible experience in Koh Phangan in November 2015.
We stayed at Hut Sun Bungalows and Rented a Scooter nearby. As you come out of Hut Sun and you walk to the right towards the ATM machines and shop across the road there is a Scooter Rental Place that says Noppond offering scooters, beauty, laundry, etc.
We rented a scooter for 150 baht from them per day. We parked the scooter in Hut Sun's scooter parking area and next morning discovered the bike had fallen over from its stationary position mysteriously. My husband checked to make sure scooter was alright – all good.
Most of the time we stayed there my husband had the flu so we didn't do too much but it was nice to have the scooter to go to the shop, etc.
When it came time to return the scooter we went to drop it off. They started pointing out scratches in the inner area of both the mirrors, under the bike, rust marks on the things that the mirrors are attached to, scratch on the front guard thing etc. They pulled out a price list of all the things they would need to get fixed.
I said to them they were lying. They didn't care and we demanded that the owner of the place come speak to us. When he arrived he was very aggressive, smacking the bike and demanding money and pulled out a price list of all the things he was going to have to fix with large baht amounts attached.
I walked back to Hut Sun and asked the owner to please help and call the police. They would not phone for us. I then asked her to give me the police's phone number.
In the meantime my husband stayed with the scooter at the place trying to rationalise with these people. He tried the police but when they hear it's about a scooter they just put down the phone. We kept asking the scooter place to call the police but they wouldn't. Eventually my husband said that if this place is going to replace all these parts then we will take the old parts with us.
The scooter guy then said we must just give him 2000 baht. We had no choice as they had my passport. After we paid him, we took photos of the place and of them and told them we would inform all the places around here about this and warn other tourists. They would not look at the camera and turned their heads away.
When I went back to Hut Sun the owner told me that she knew when we got the bike from them that there was going to be trouble and that the police were at this scooter rentals place often. But she didn't want to get involved.
Just great of her to warn us after the fact. So no help from them.
We didn't know what to believe as they all seem to know each other. We went to the print shop and printed 30 warning flyers with a photo of the place we got the scooter from. We started handing them out at nearby resorts.
The next thing this scooter man came along with his assistant chasing us and being extremely aggressive and looking like he wanted to fight with my husband.
We were so scared we fled into a nearby resort/massage place and went out the back to the beach and walked back to Hut Sun, where this man was shouting and performing in front of the place. He was shouting that he was going to call the police; and then we weren't too sure if we would have to pay them too so my husband asked the man "what he wanted".
He said he wanted us to go collect all the flyers we handed out and his assistant followed us to each and every place speaking in Thai to the people, probably trying to explain away why we had done this.
The assistant leaned over to me when we have finished collecting and said that if they found out we had said anything further or if there were any other flyers they would make sure we never got onto the ferry.
We were so scared, we packed up and left Hut Sun immediately. We just were not sure if Hut Sun was involved with these people, it all seemed far to convenient.
Our bike fell over mysteriously by itself; it was just very dodgy all of it.
We didn't use our tickets that we bought from Hut Sun to leave for Phuket the following day and we lost 1 night accommodation that we paid for just to get out of there. We decided to get new tickets on the Catamaran rather, due to the threats.
Guys don't give your passport to anyone in Thailand, rather don't use a scooter. They will extort money from you if they have your passport and you are going to feel incredibly helpless because you are in a strange country and no-one will help you.
One more thing, room 24 by the pool – the sliding door to balcony has been put in incorrectly so that you can unlock it from the outside. So you will lock it from the inside when you close up the balcony and they can unlock it with ease. The balcony is easily accessible.
When I noticed this and mentioned it the owner seemed to know about it and had not told us.
Geez and we were leaving our valuables etc in this room when we went out. Only when I brought it to her attention did she provide us with a chain and lock to lock it from the inside.
It's just unacceptable. I'm so over Thailand. Won't go back there again.
I would like to know how the authorities allow the scooter scams to proceed in Thailand. What is being done about this? This includes the resorts renting out scooters, the scooter renters on the side of the road.
Trip Advisor is full of stories regarding scams of scooters, jet skis, etc.
I am making it my mission to inform all South African travel agents about this as I had first hand experience of this so that South Africans are wise to the scamming industry in Thailand.
Shocking that this is allowed when Tourism is your main industry.
I certainly won't be back and if I have my way South Africans will think twice about visiting Thailand. There are other destinations where scamming and rip off isn't part and parcel of your holiday.