Perhaps time to sober up, Koh Phangan Paradise Island?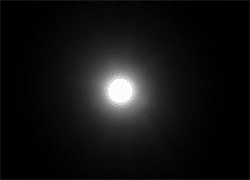 The full moon parties draw hundreds of thousands to Thailand each year, but dangers are growing for locals and visitors alike.
Today brings the full moon of the 12th month in the traditional Thai lunar calendar, celebrated around the country as Loy Krathong. As Thais mark the occasion by releasing krathong (floats) on water and kom loy (candlelit lanterns) into the air, thousands of tourists from around the world will tonight gather on Koh Pha-ngan in the Gulf of Thailand for a "full-moon party".
The world-famous dance festival has been held on Haad Rin Beach every month at full moon for more than three decades. The parties attract hundreds of thousands of revellers each year and have spawned gatherings at other locations on Koh Pha-ngan throughout the month.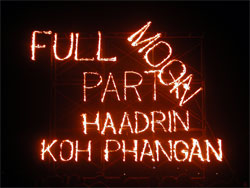 However, Surat Thani Governor Chatpong Chatraphuti recently ordered authorities to ban public parties at any location except Haad Rin Beach. He cited the need to prevent crime and vice. His order comes at a time when Thailand's tourism industry and image abroad are still reeling from the killings of two British tourists on neighbouring Koh Tao.
The governor's decree is bad news for many local businesses and also for the tourists lured by the Koh Pha-ngan's reputation as a party island. Some local business operators said the ban would hit them in the pocket, though they didn't expect the impact to be severe.
However, others voiced support for the governor's decision. In a recent survey of local residents, about 70 per cent of respondents were against the proliferation of parties on the island. Before the order was issued, entrepreneurs were staging parties on the island at least 22 days per month.
Locals and visitors were complaining about the noise. Tourists who had come to the island to relax in a serene environment were being driven away by the booming beat deep into the night.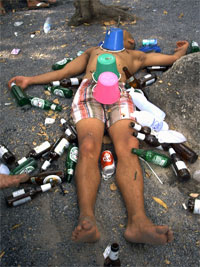 Suwit Phongsri, leader of Koh Pha-ngan's Cultural Council, said parties were being organised close to temples and communities. Daily life was disturbed by the sight of drunken tourists lying unconscious and sometimes naked in public after a long night of boozing. Such scenes greeted children on their way to school and Buddhist monks on their morning alms rounds.
The public drunkenness also places the tourists involved in danger, making them more vulnerable to attack by criminals.
Tourism is certainly a huge source of income for Koh Pha-ngan. Last year the island welcomed more than 727,000 visitors, an increase of 36 per cent on the previous year. More than 618,000 last year were foreigners, swelling the income of local businesses.
However, the island's popularity rests on more than just its reputation as a party venue. Its beautiful beaches, pristine rainforest and tranquil Buddhist temples are a magnet for tourists.
Should party culture be allowed to shatter the serenity of those scenes, Koh Pha-ngan will lose much of its allure.
Instead, the island must strike a balance that meets the needs of all tourists and conserves the peaceful daily life of residents. Businesspeople eager to make a fast buck from tourists will only scare them away in the long run.
As hosts, the authorities and citizens share a duty to ensure visitors' safety during their stay. Meanwhile party-goers must be alerted to the potential dangers of becoming intoxicated to the point where they become prey to petty thieves or more dangerous criminals.
Thank you to The Nation "Time to sober up, Koh Pha-ngan" which was brought to us by Google Alerts.