Police Chief and District Chief of Koh Phangan Island finally being transfered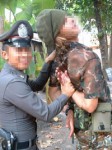 Koh Phangan's chief of police was finally transferred immediately to 8th Regional Police Bureau yesterday following his failure to curb rising crime on the island of madness, formerly also known as Koh Phangan Paradise Island.
Pol Col Wutichai Hanhabun will work at the bureau for 120 days or until an inquiry team finishes a disciplinary investigation, according to an order signed by bureau chief Tani Tawitsri, who oversees the South of Thailand.
Pol Lt-Gen Tani decided to take harsh action against Koh Phangan's police chief after a number of complaints about tourists' safety and alleged rifts among state agencies.
Surat Thani governor Vinai Buapradit had said earlier that he was very much disappointed with Koh Phangan police and also Koh Phangan's district chief (Nai Amphoe) over their passive crackdown on island's crimes. He is also preparing to transfer the district chief (Nai Amphoe) out of the area.
Local Koh Phangan Police officers have more than often allegedly failed to arrest suspects in murder cases, including the fatal shooting of a former kamnan of tambon Koh Phangan and the murder of an Israeli Tourists last year in April 2007. Chief suspects in that murder case were a gang of local Thai teenagers, including the son of a local Koh Phangan politician, but so far no progress at all has been shown by local Koh Phangan police forces. Furthermore a foreign female tourist has been recently raped at the Full Moon Party. Finally Koh Phangan Police officers were also accused of taking bribes from foreign tourists in exchange for not arresting them for marijuana possession.
The latest case involving Koh Phangan tourists is the disappearance of Daniel Christian Hall, or Danny Hall, a British national who joined a full moon party on the island of madness on Feb 24th 2008. The 35-year-old Briton was last seen at the Back Yard Pub Hadrin Beach on Feb 25th 2008 at midnight, according to a press release circulated by a group of his friends. The last known contact was a phone call to his friend at 2am on Feb 26th 2008.
Danny Hall had stayed at Leam Son 2 bungalows on Haad Yao beach since Feb 16. He had never returned to his bungalow to collect his clothes, bag or guitar. Mr Hall's family and friends have been closely coordinating with British and Thai authorities to find him. Mr Hall has travelled extensively and was interested in Thai boxing. He graduated frome University of Birmingham with an honours degree in history.
"He arranged to meet a friend in Bangkok to pick up some stuff after the full moon party but didn't show up," said the press release.
The group also urged Thai authorities to look into safety problems of tourists joining Koh Phangan's world famous full moon party, furthermore also claiming that there were several reports of Caucasian males losing their lives in various ways during Feb 24-25 party period.
"It seems to be accepted common knowledge that Koh Phangan Island, some even call it the 'island of madness', has spiraled totally out of control and yet nothing appears to be done about it! What a disaster!", the group further added.