Russian Homemade Marijuana Bong Sellers Arrested on Koh Phangan Island
Police have arrested two Russians who allegedly sold homemade marijuana bongs via a Facebook page on the southern island of Koh Pha-Ngan.
The arrest followed a police investigation into a now-deleted Facebook page, called Bong Russian Boss, which advertised homemade bamboo bongs and featured photos of the seller lying down in what appears to be marijuana plants.
The Facebook page claimed to be operated by Russians on Koh Pha-Ngan – an island in the Gulf of Thailand known for its raucous, drug-fueled monthly Full Moon Parties.
Pol.Col. Prachum Ruengthong, superintendent of Koh Pha-Ngan Police Station, said the operators of the Facebook page were arrested at their residence today.
According to Pol.Col. Prachum, police found eight Russian nationals at the house, along with a marijuana bong and approximately 304 grams of marijuana.
Two 29-year-old Russian men, named Serge and Constantin, identified themselves as owners of the drugs and operators of the Facebook page, police say.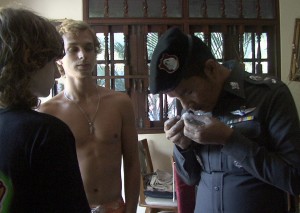 "They made their own bongs to smoke marijuana with their friends, and then announced that they would sell the bongs to compatriots on the island, because they didn't think it would violate Thai laws," Pol.Col. Prachum said, adding that Constantin and Serge often host parties for other Russians at their residence.
Under Thai laws, bongs are not illegal, though the two Russians have been charged with possession of Category 5 Drugs (marijuana). Police also took down the personal details of the other six Russians but released them without charges.
Thank you to Khaosod "Russian Bong Sellers Arrested on Koh Pha Ngan" which was brought to us by Google Alerts.