Royal Thai Navy intercepts Full Moon Ferry to Haad Rin Beach on Koh Phangan Island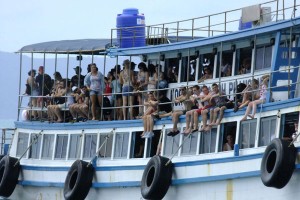 The Royal Thai Navy has controversially refused to let a ferry full of backpackers, island party-goers, and other low-budget tourists land on Thai soil, citing national security reasons and issues of Thai sovereignty.
The Phangan Prince, a diesel-powered 150-seat wooden boat operated by the Full Moon Island Tour company, departed from Bophut pier on Koh Samui at 8:30am Thursday, but was intercepted on route to its destination at Haad Rin beach by a Thai naval destroyer. The naval ship hailed the ferry captain and ordered it to turn around. However, once it re-approached Bophut pier another smaller navy gunboat blocked its path and fired warning shots across the ferry's bow, startling the approximately 320 foreigners aboard.
"We were already totally confused by the fact that we never landed at Koh Phangan," explained Terry Woodson, a 23-year old "visual artist" from Manchester. "Then when we were coming back to Koh Samui, suddenly there was gunfire and explosions. I dropped my Kleen Kanteen water bottle and it rolled into an open hatch. I have no water now."
The ferry was then escorted by the naval gunship to open waters in the Andaman Sea, where it remains.
The International Red Cross visited the ship on Sunday, and reported back that those aboard "smelled worse than usual," and that they were in danger of reaching "dangerous levels of insufferability" if they were not permitted to loiter on a beach within the next 48 hours.
Human rights organizations from around the world have universally condemned the navy's action, claiming that all people, even near-stateless, hygienically challenged backpackers, have universal human rights.
"Full moon revelers are among the world's most discriminated-against populations," said a spokesperson for Amnesty International. "For decades they have suffered from systematic mistreatment by embassies, hotels, restaurants, and even from their fellow travelers, who misunderstand their unique world view and see them as undesirables. This act by the Thai navy borders on genocide."
Human Rights Watch issued a statement calling for compassion and understanding from the world for "these miserable, wretched people."
"The low-budget raver is already bereft of so many things that we take for granted," read the statement in part. "They live in a state of constant filth, which is exacerbated by mental and medical issues such as frequent alcoholism, the effects of drug abuse, and the pervasive delusion that they're on some kind of spiritual quest rather than just a selfish hedonistic binge. This level of autism requires medical attention, not banishment."
The Thai navy could not be reached for comment. However, a Thai government spokesperson defended the action, stating that the refugees in question were illegal immigrants who had neither legal nor ethical claim to be in Thailand.
"While it is not our intention to cause harm to any people, we are obligated to defend our borders against intrusion," he said. "These persons in question were largely here on illegal or expired tourist visas," he continued. "They make little or no contribution to our economy, spending as little as USD$3 a day."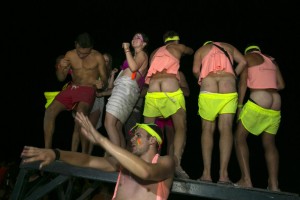 "Moreover, they are from a culture that is incompatible with our own. Thais are polite, deferential, and extremely clean. These invaders are the opposite, and we have no space for them here."
Now on its fourth day adrift in the water, conditions aboard the ferry are reportedly becoming desperate.
"We're almost out of battery power on our iPhones, and can't update our Instagram and Facebook accounts," said Meredith Dusfrene, a Danish student. "People are starting to panic that their holiday photos are not going to gain enough likes, and that we will have to post them as latergrams, which isn't nearly as fun."
"This is unfair and uncool," said Travis Winter, a 35-year old American musician and amateur snowboarder. "I mean we're here to totally connect with the people of Taiwan, and their ancient culture and ways, and then these fascists just come out of nowhere and violate our civil rights."
Governments of the various nations in which the refugees have been claiming citizenship have been contacted, including Australia, the UK, the US, Canada, Germany, and Sweden. However, none of the nations have so far agreed to send assistance or permit the ship to dock in their own ports.
The government of Australia , which legally represents about 42 of the refugees, issued a statement assuring that it was "seriously looking at the situation."
"We have contacted the parents and co-workers of the Australians onboard, and they seem somewhat divided on whether they want their loved ones back," said a spokesperson for the Australian Foreign Ministry. "We have to balance the needs of the refugees with the feelings of our normal, employed, regular-bathing citizens."
According to ethnographer Dr Erica Rodart, this kind of attitude towards island-party minorities is all too common around the world.
"Caucasian island ravers are especially easy to despise, given their combination of self-regard, privileged background, and appalling personal habits," she explained. "In almost every established culture around the world, in both developed and developing nations, you find a universal rejection of their way of life."
"It's almost as if the island raver is a virus that every successful culture intuitively treats like a virus," she added.
According to Dr Rodart, the idea of putting them on an island, where no one else would have to hear, see, or smell them, was long regarded as the ideal solution to prevent raver genocide.
"I guess quarantine just wasn't enough for the Thais," she said.
As the crisis enters its fifth day, Amnesty international has made an urgent appeal to the private sector for help, including industries that are traditionally friendly with backpackers and island ravers.
"These people may look and sound useless, but they do spend –a little. We appeal to the vegetarian street food industry, the owners of roach-infested hostels, the creators of terrible techno music, and the manufacturers of Nepalese shoulder bags and shitty Batik-print dashikis. These are your people. Save them."
Thank you to Not The Nation "Thai Navy Pushes Full-Moon-Party-Raver Ferry Out To Sea" which was brought to us by Google Alerts.