British backpacker killed by electric shock from faulty fridge on the Island of Koh Phangan Thailand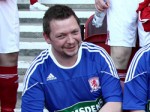 A British tourist was killed by an electric shock as he took a bottle of water from a fridge at a resort on Koh Phangan Island.
Friends said Grant Harrison, 36, from London, had been relaxing by a pool before he went to the fridge for the bottle and received the fatal shock on the island of Koh Phangan.
He had arrived in the country only at the New Year and had been planning to travel around with his girlfriend.
A fellow Boro fan, writing on the website under the name 'Lisbonlegend' paid tribute saying : 'He told me he was going travelling for a bit in the New Year, over to Thailand and more, to enjoy life for a bit.
'He was relaxing by the pool, decided to go for a bottle of water and it cost him his life.He was a fantastic friend and a brilliant character.
'I am going to miss a really great friend and I'm totally gutted he won't get the chance to score at the Riverside like he desperately wanted.
'RIP Grant, I'll really miss you mate.'
A spokeswoman for the Foreign and Commonwealth Office said: 'We can confirm the death of a British national in Koh Phangan, Thailand. We are providing consular assistance for next of kin.'
Original news article here.