On the hunt for Koh Phangan police officer involved in assault and extortion of Russian tourist couple

A police officer being sought over the alleged assault and extortion of a Russian couple on Koh Phangan is believed to have committed similar offences and faces being dismissed from the police force.
Pol Maj Gen Apichart Boonsriroj, chief of Surat Thani police, said on Thursday he had ordered a police team to hunt down Pol Snr Sgt Maj Suriyan Ranjuan, 50, of Koh Phangan police station.
The team has received information as to the officer's whereabouts and are trying to arrest him.
Pol Snr Sgt Maj Suriyan and four accomplices are accused of the assault and extortion of Ekaterina Lobanova, 35, and her husband Anthon Lobanov, 36, while the Russian couple were holidaying on Koh Phangan.
The incident occurred on Had Rin beach of this popular island on Tuesday night when two of the accomplices had offered to sell illicit drugs to the Russian couple. They refused to buy the drugs.
The men then offered to give them a taxi ride to their room and they accepted the offer. But on the way to the taxi, three more men showed up and claimed to be police officers.
They demanded money from the tourists in exchange for dropping charges of illegal possession of drugs. When Ms Lobanova told the gang she had no money, one of them punched her in the face, took her iPhone 6 and other valuable items.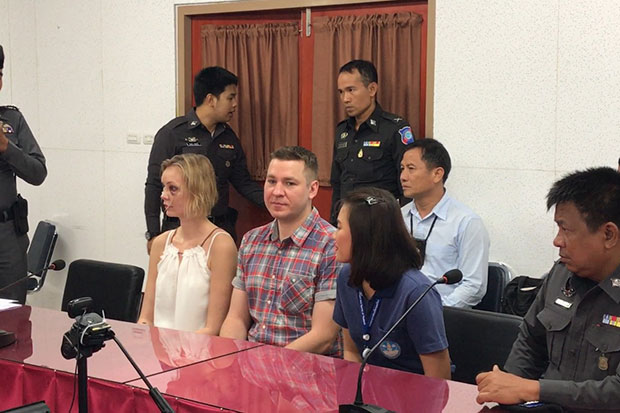 The gang abandoned the Russian couple on Ban Thong Nang Road in tambon Ban Tai, where they sought help from local people, who took them to police.
On Wednesday, three of the five men surrendered to police, followed later by a fourth suspect.
Pol Maj Gen Apichart said Pol Snr Sgt Maj Saiyan, who is in hiding, had earlier faced a similar complaint. This prompted him to be transferred to Don Sak police station in the same province. The accused officer had sought annual leave for 10 days before reporting to work at Don Sak police station. During the annual leave, he committed the offences again.
The police chief said the accused officer would be dismissed from the police force and face drastic action.
Koh Phangan Police on Thursday took three suspects – Apidet Khongman, 31, Thaweesin Khongnak, 34, and Suriya Ruangthong, 47 – to re-enact the crime.
Another suspect, Thani Srikaew, 46, who has denied the charges, was not taken to the re-enactment.
Thank you to Bangkokpost "Hunt for cop involved in extortion of Russian couple " which was brought to us by Google Alerts.