URGENT! Help George to get treatment in the UK

A British man who fell ill in Koh Phangan is now at risk of being stranded on an island after his hospital costs went into the thousands.
George Gannon, 29, awoke on September 25 to find that he had lost the ability to speak and move his legs.
The social media consultant and DJ, who has lived in Thailand since 2014, was then diagnosed with a malignant brain tumour and rushed to hospital in Koh Samui by ambulance boat.
Now George, originally from Basingstoke, is facing mounting medical bills, including at least £600 a day for his treatment and £3,500 for an operation, as he doesn't have health insurance.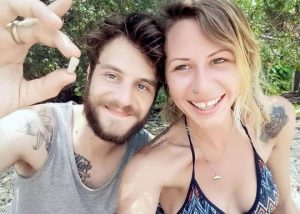 His family, who first heard of his condition from his girlfriend Natalie Hobbs, have also been told that flying George home could cost up to £100,000
Doctors believe that the frontal lobe malignant tumour on the left side of George's brain could be a re-occurrence of skin cancer, which he battled in 2013.
The self-employed consultant, who lives in Koh Phangan, is said to have complained of headaches for weeks before his sudden lost of movement on September 25.
Ms Evison has now travelled to Thailand with George's brother, Freddie Chester, but the family have been told to anticipate extreme travel costs in their attempts to fly her son home.
'We've been told flights though could £100,000. It's been very, very stressful,' George's sister Grace Gannon, 25, said. 'We just want him back here but we know it's not feasible at the moment so we're trying to get as much sorted out as we can.
'The doctors have told us the best-case scenario that he could be home in three weeks, but we don't know.
'We thought it was the last of it but you just don't expect it to return when you have an operation like that.
'He's amazing, he'd do anything for anybody at any time. He just wants to help and give back to people.'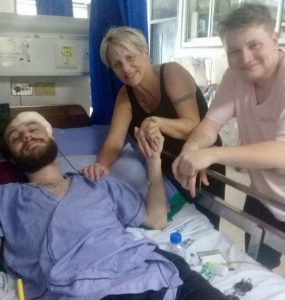 The family have now launched a crowdfunding campaign to help George get treatment in the UK.
In five days they have already raised just short of £20,000, which Ms Evison called 'overwhelming, gobsmacking, heart-melting and humbling'.
'We're very lucky. We've had donations and messages from across the world,' she said.
'People are holding raffles and bucket collections over in Koh Phangang.
'We're not alone in this and it goes to show how much love George and Natalie have.'
Thank you to Metro News "British man facing £100,000 bill after falling ill in Thailand without insurance" which was brought to us by Google Alerts.