The New Jungle Gym in Thong Sala Koh Phangan has finally opened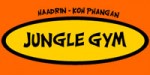 It finally has HAPPENED! The New Jungle Gym in Thong Sala on Koh Phangan Island has opened … well, that only took us a couple of years!
It came together and we had the whole ceremony opening thing too. Hope you enjoy the photos. One thing though we lost a lot of peoples addresses when the computer crashed, burned and died. So please send us your email addresses if you want to be kept informed. So far all is operating smoothly. Should have the cafe and dormitory open by high season. Now if we could only figure out when that will be.
Thanks to all of you who have supported us. Right now we have Dutch boys training and a whole lot of Thais. It's a lot different from Hadrin. We especially like the lawn. So bare with us and send those addresses!
Chi Kong & Tai Chi classes at Jungle gym Haadrin.1st class is Sunday,1 Feb at 1 pm.
Yoga in Haadrin beginning Monday,Feb 2 at 1pm.
Yoga in Thong Sala beginning on Wednesday 4th, Thursday 5th and Friday 6th. 2pm in Thongsala gym. All of the yoga currently is Hatha.
We also have a licensed Shiatsu practitioner and Acupuncturist.
Sale in Thong Sala Gym come in and see us.
Munchies 'Healthy Food' cafe catering to your nutritional workout needs is now open in the Thongsala gym. We have No MSG, Brown Rice & special diet requirement know how.
Thai Boxing 4 classes a day at both locations. 10 am, 11 am, 4 pm and 5pm. All levels welcome. Gym is open 9am to 8pm daily, Haadrin and Thongsala.
For more information please visit the website of Jungle Gym Koh Phangan or phone 077-375115 / 06-9539905