A Tantric Agama Yoga Journey on the Island of Koh Phangan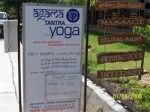 I decided to take a tantric yoga journey to the land of peaceful truth!
But when I approached the conductor of the vessel to take me there, i discovered I had to buy a ticket for 7500B for a five day trip. Truthful knowledge is free, but apparently some have decided to charge a fee.
When informed of the universal principals of energy and its relationship with its inter-connectiveness with nature; I had to agree. The use of yogic philosophy of chantras and its universal code in order to rid people of their money its fundamentally and ethically wrong.
Unfortunately no one has the right to discredit an individual for doing so since it is up to a persons free will and personal choice to conduct themselves ethically. One can only sit on the dock and watch this ship sail away. The truth is internal and infinite and exists in everyone!
The tactical free seminar seemed to remind me of a business meeting ,whereas the individual was conducting a sales pitch to sell a product. The utilization of ancient philosophical principals convinces the individual to buy the product and take the journey.
Sexual energy became an all too important subject. Sucking energy from the earth, the sun, the trees, the ocean etc. seemed to signal a psychological ploy for personal sexual gain. Philosophy is independant of behavior and if the action occurs it is part of the truth. But all human beings are born free and equal in dignity and rights, endowed with reason and conscience and should act towards one another in the spirit of brotherhood.
Too, bad, in some instances, that brotherhood is used to manipulate the lost and confused for personal profit.
More details about Agama Tantric Yoga Koh Phangan