Happy New Year 2005 – Songkran Festival on the Island of Koh Phangan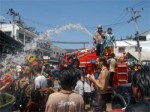 Sawadee Pee Mai 😉 It was time again for another celebration of the world famous Songkran Festival here on Koh Phangan Paradise Island April 13.th 2005!
And also in the year 2005 lots and lots of people from all over the world finally found their way to Koh Phangan to participate in a day filled with fun, smiles and lots and lots of water. It is without a doubt the biggest party of the year and guarantees fun, happiness and big, big smiles over your face 😉
13.th of April is indeed an extraordinary special day on the hidden jewel in the Gulf of Thailand. Most of the island long term patients can be found in Thongsala that day and this time Becki got them all on his digital camera 😉 The streets in downtown Thongsala were packed and everyone was very well prepared with special certified island equipment. Water pistols & sunglasses!
Like usual many bars, shops and restaurants set up sound systems and Thais and 'Farangs' were dancing together in the hot sun in a real carnival atmosphere. The spirit and energy was really special and I saw lots and lots of happy smiling faces all around. GREAT!
Please check out the Picture Gallery by clicking on this link => Songkran Festival 2005 Koh Phangan Island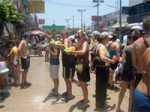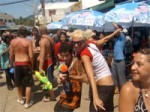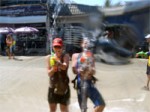 A very big THANK YOU goes to our secret undercover agents Heiki & Daniel from Haad Yao Divers for lending out their water proof digital camera on that special day. Another BIG THANK YOU goes to uncorrupted agent Patrik from Baancom.com and his ADSL connection for uploading all the pictures to my server in Germany. I would have been lost without your help & support 😉
So … hope all of you had a funny day with even more funny memories and hopefully this was not our last Songkran Festival here on Koh Phangan Paradise Island!
Wish you all a very HAPPY NEW YEAR 😉