Same-Same Thai Cooking School Grand Opening at Haad Rin Beach Koh Phangan Island
Recently Becki received an invitation from Soeren to join the grand opening party of Same-Same Thai cooking school at Had Rin Beach on world famous Koh Phangan Paradise Island.
So … Becki arrived a bit late like usual and was nearly starving to death as I usually do a 3 days fasting once I get an invitation for any kind of opening party which offers free food … ha ha ha .. That's a funny one – cheap charley Becki 😉
Anyway, the place was packed by half past four in the afternoon and many guests had already arrived. Our special guest Billy the Kid from the Phangan Headband also found his way to the opening party enjoying the delicious Thai food offered by our friendly hosts Thip & Soeren from Same-Same Lodge & Restaurant.
Becki didn't hesitate one second and tried ALL available different kinds of Thai food like green, red and massaman curries, pork satays, fish sticks, shrimps on toast and steamed seafood in banana leaves and so on and so on. Even the 'Laab Muu' was more than delicious as it was the original 'Laab' with real mint leaves in it. Something very hard to find all over Thailand!
So finally Becki has to give a 'Two Thumbs Up' for our main chef Thip and her crew for preparing all the dishes with an extraordinary taste. In case anyone of you is now interested in the secret recipes and preparation then please don't hesitate and sign up for a course at Same-Same Thai cooking school at Kho Pha-Ngan Paradise Island.
Same-Same offers 1, 3 and 5 day courses for a very affordable price of 900, 2.500 and 4.200 Baht. The Same-Same Thai cooking school is certified by the ministry of education in Thailand and offers an English speaking and beautiful looking professional chef named Thip 😉 and a fully equipped kitchen. All courses include recipes, Thai fruit tasting, visit of the local market, drinking water, coffee or tea. You're also welcome to invite your friends at no extra charge.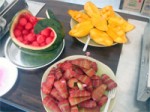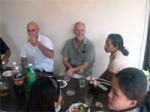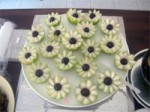 If you need more detailed information about Same-Same Thai cooking school then dial 07-8933804 or 077-375200. If you're looking for simply the best guest house in Haad Rin then just visit Same-Same Lodge & Guest House.