Full Moon Party Koh Phangan Island attracts again thousands of backpackers!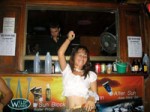 Well, of course, it was a long night again for all those party people on Koh Phangan Island who celebrated the Full Moon Party in April 2003! It was a clear and bright full moon night and best time to party again at Haad Rin beach.
At 'The Original Fullmoon Party' at Paradise Bungalows you could listen to some house beats mixed by the local Thai disk jockey. A bit more down the beach at Drop In Bar also the usual pop, rock, soul & funky sound! Our friends from Israel were having their party at Zoom Bar with some hard progressive psychedelic trance tracks. The Cactus Bar is still playing this old classic "I'm a sex machine !" from James Brown and is somehow mainly visited by drunken British chicks 🙂 Uuuppsa !
Orchid Bungalows was playing this stressful music again! Fast drum & base with lots of hi-hat rolls and finally a guy rapping through a micro to these strange sounds. And the funny part is to see the people dancing … aehm … moving to these obscure rhythms. It makes me laugh every time 🙂
Some more soft psychedelic trance was played and mixed at Thommy's by the local DJs and some guests from other countries. The sunrise was amazing and once it was daylight you could count the 'dead bodies' on the beach. For those who survived the Full Moon Party night the Backyard Pub was waiting for the after-hour party and playing house tracks until the afternoon. Let's hope everybody had a great party with no side effects or whatsoever?!? See you next month 🙂