Koh Phangan Island celebrates the Songkran Festival in 2003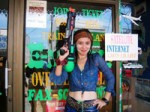 Through the last couple of years the Songkran Festival, here on Koh Phangan Island, has developed enormously and transformed into a big party; especially in Thongsala town at the main pier road on the south west coast of Phangan Island.
Every year, the 13th of April, hundreds of Thais, Tourists and backpackers meet up in Thongsala town to celebrate the Songkran Festival, the beginning of the New Year in Thailand.
Everybody was well equiped with waterguns, baby powder and a big smile on their face 🙂 Long Shot Bar also played some techno vibes and somehow became the meeting point for the Songran Festival here in Thongsala. The party started early morning and went on through the whole day until sunset.
Some real nasty water weapons have been declared forbidden by the Thai government because of too many accidents over the last few years. But if you were lucky you could bump into an attack here on Koh Phangan Island.
And please don't forget to bring your sunglasses next year and be well prepared for this delightful yearly festival! Happy Songkran 🙂 !