Schnitzel King Restaurant Baan Tai village Koh Phangan Island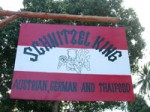 Extremely specialized in all different kinds of schnitzels is the new opened restaurant 'Schnitzel King'. The restaurant is located in Baan Tai village at the south coast of Koh Phangan Island and is open from 14.30 to 22.00 o'clock every single day.
To ensure you the best schnitzel quality on world famous Koh Phangan island, the 'Schnitzel King' restaurant is run by Christian from Austria with his Thai girlfriend Jean. Christian is a professional chef cook and knows best how to prepare tasteful food for your tasteful delights :-)! The Schnitzel King menu is quite detailed and offers lots of different schnitzel versions … some of them I also have never heard of 🙂
The most amazing thing is that i can get my most favorite schnitzel here. With bread crumbs like usual and then on top of it mushroom gravy hunter style and french fries! Also available is Thai food of course and other Austrian and German dishes like 'Schweinsbraten mit Semmelknoedel'! As dessert you can choose a 'Kaiserschmarrn', a sort of special made Austrian pancake – just delicious 🙂 !
So whenever your appetite asks for something like schnitzel then please don't hesitate and come have a look here at 'Schnitzel King' in Baan Tai village, directly at the main road from Baan Tai to Haad Rin beach. You can't miss it 🙂 !