Koh Phangan Party Island & Big Trouble in Tourist Thailand Episode 2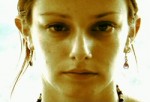 Shining down up on the paradise island of Koh Phangan is a mighty full moon which means it must be the night of Thailand's premier Full Moon Beach Party with thousands of revelers all looking for the ultimate holiday high.
The sandy beach has turned into a disco inferno. And where there is a party there is bound to be trouble. And soon the merriments begin to descent into mayhem. It starts of mildly with local thieves preying on the drunken tourists, looking for a quick handbag snatch or easy victims to pick pocket.
On an average Full Moon Party night nearly a hundred wallets can be expected to be lifted from unwitting hedonists on the beach but bigger crimes await the cops. As the high jinks turns into violence fights start breaking out between party goers.
"It's always alcohol … the worst drug. It start's getting violent the more drunk people we are getting. Then the violence comes out!" says Louise Rawlings, Thai Tourist Police, Head of Volunteers
But it's not just the holiday makers who get nasty it's also the Thai locals. As the Full Moon Beach Party gets into full swing drunken behavior leads to a violent assault on a British lad. Jamie found himself the victim of a vicious mugging and assault. A local Thai man robbed him off his wallet and passport. Sporting a nasty head injury he needs immediate medical attention.
Over at the local police station his friends try to explain to the Thai cops what happened.
"My friend he come to full moon party … then Thai person come like this … and they go like this … and they take money … he go up to them … and he go … pushed like this … they get stoned … like this … and they smashed the bottle on his head … he had blood over his face …and I just come to report … I just tell you what happened", Jamie's friend reports at the local police station.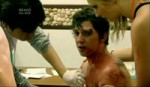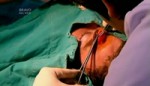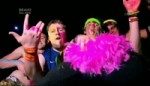 The language barrier at the police station is creating its own headache for the British lads.
"I talk to police and they just laugh at me" Jamie's friend further explains.
All explanations seem to fall on deaf ears making the lads despair about the justice system in Thailand.
"I came to see the police and they basically did nothing! They never get someone caught … never! It's Thailand!" Jamie's friend finally reveals.
Then we follow up on the story of Micha, a real cute British chick whose dream holiday on Paradise Island Koh Phangan turned into a terrible nightmare.
It's the morning following Micha's arrest and after scraping together enough money form family and friends Micha has made bail and is been released from the prison cell.
"Did the police give you any indication of what would happen to you?"
"We kept asking about the court date but the police officers just shrugged his shoulders. All day they were just trying to get money out of us. They weren't talking about crime or anything. They were just talking about money … that's all they wanted!" Micha's boyfriend Martin explained.
"It seemed like the more we looked desperate the more they were playing hard ball with us." he further added.
"If I had had the money I would have given it to them just to get out!" Micha says.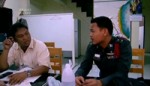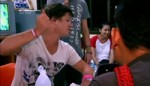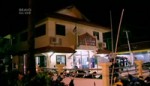 Finally Micha is being sent to the court and the next 20 minutes spend pleading her case will define Micha's future. She knows that she could be looking for up to a year in prison or be giving her ticket to freedom.
The wait is over … Micha finally has a verdict!
"Relieved … very relieved! I am happy … yeah! And it's good news! I was sentenced to 1 year in prison but because I was so young it was a month and then because it was my first event I got fined and being send out on probation. Very good!" Micha happily announces.
And finally real cute British chick Micha Abigail Dixon is returning home from her dream holiday which has turned into a real & original Koh Phangan nightmare.
Then we follow the trail of Thai Tourist Police volunteer Howard Miller in the streets of Pattaya where a drunken English bloke has urinated on a taxi car and also smashed the hood with his fist. Then being arrested Howard Miller explains the local customs in the Kingdom of Thailand.
"If the man apologizes and makes some form of compensation to the taxi driver according to local customs the situation will be resolved and he will get away with a caution." Howard Miller, Tourist Police volunteer enlightens.
"The taxi driver has given me a figure … hang on … hang on … 3.000 Thai Baht for damage … just give us 2.000 Thai Baht and then the situation is finished!" Tourist Police volunteer says to the drunken British lad.
"We had two options! After finding out the English guy had no witnesses I said to him … look … you could either be locked up for what you did or we can come to some sort of financial arrangement and try to clear the damage on the car and then it is finished and you can walk away. We agreed on a price of 2.000 Thai Baht which is about 30 pounds and I think it is a fair amount. The English guy agreed to pay it and that was it … finished! He avoided going to jail … it's nice ;-)" Howard Miller further explains.
So let's all be real happy about this fantastic local legal system and just keep in mind that money makes the earth spin around the sun … and justice does indeed not exist … at least in the land of the smile 😉
Greetings and be good to each other!