Thailand is ruled by fear, governed by corruption and a bullet here and there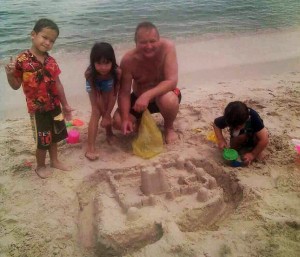 Sawadee Khrap & welcome back to Koh Phangan Island News – The one and only news magazine reporting the awful truth 😉
British journalist Andrew Drummond has quit Thailand after 25 years covering Southeast Asia from the Thai capital Bangkok.
That was the headline I received yesterday via various social network channels and to actually be honest, it wasn't that big of a surprise to me.
I have been following the work of Andrew some time now, especially since he also covered my story of the Original Koh Phangan Gunshot Attack back in March 2009.
Actually I'm glad to hear that Andrew has decided to quit Thailand and protect his family.
I have enjoyed my time in Thailand where I have made many good Thai and foreign friends but there comes a time having too much knowledge which I cannot keep to myself can be too dangerous.
My well being has been threatened as have those of my children. This is not of course the first time, but the recent threat came from a group of people who have killed with impunity before, and have even had police set up people on false charges.
Yes, too much knowledge is not welcome in Thailand. You better keep that to yourself otherwise the land of the smile stops smiling and could become ugly!
Investigative journalism and criticism is not welcome in the Land of the Free. The only way to live a peaceful life (?) in the Land of the Smile is illustrated by the three monkeys below.

In regard to the Koh Tao murder case, Andrew has been covering in the past couple of months …
I just recently had a friend from Koh Phangan here on a short visit in Germany and the comment on the Koh Tao murder case simply was:
Everyone on the Islands knows who did it! It wasn't those two poor Burmese boys, set up by police, who primarily act as scapegoats. It was the … blablabla… from that rich and powerful local Thai family on Koh Tao … blab bla bla …
Well, if you ask, nobody knows nothing! But behind secret and closed doors the truth is being talked about. But the truth will stay behind that secret and closed door and it better should!
Otherwise, if you're being lucky, you get shot in the ass 😉 If you're not that lucky you might get shot in the head or a family member might get hurt?
I still remember the tourist police cops on Koh Samui back in 2009, when I got shot by the Half Moon Party thugs, and asking them why they are not willing to assist me in my case? Well, you know, we have family, a wife and kids …
Yes, Thailand is ruled by fear, governed by corruption and perhaps a bullet here and there if someone gained too much knowledge and simply somehow forgot the awful truth:

Me, no hear nothing!
Me, no see nothing!
Me, no talk nothing!
Amazing Thailand – welcome to the land of the smile 😉
p.s. thanks for the fish and best of luck Andrew