Koh Phangan Island – A rainy Full Moon Party at Hadrin Beach in September 2005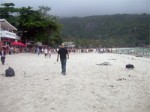 Even in times of Thailand's world wide bad reputation the monthly Full Moon Party event took place like usual at world famous Hadrin Beach on Koh Pha-Ngan Paradise Island.
Arrived at Thailand's bad reputation disaster area early morning around 7 a.m. just a bit before it started to rain. The party zone was packed again with thousands and thousands of party hungry aliens. Most of them farangs, as they like to call us, but Becki is also noticing a dangerous & massive increase in numbers of Thai people who join this monthly Full Moon celebration. Don't they realize how bad all this is for Thailand's world wide reputation? Or do they simply just not care?
Once the rain started to fall it must have definitely shown a positive effect on a couple of thousands Full Moon celebrators as Haad Rin beach was nearly empty in just a couple of minutes. Probably the rain cooled down the chemically altered brains and suddenly they realized … What is going on? What the heck are we doing here?
This month you could find the usual suspects and also our special guest Billy the Kid could be found at various places observing strange alien behavior.
Please check out the Picture Gallery => Full Moon Party Haad Rin Beach Koh Phangan September 2005
All the rest seemed to be pretty normal at party zone Haad Rin Beach. But in case YOU have never been to the original Full Moon Party at world famous Hadrin Beach Koh Phangan it's probably time to hurry a bit as the next Full Moon Party could be the last one according to the latest information we received through our highly sensitive TASAS network. Well … we never know what's going to happen next, isn't it 😉
So … just in case … don't hesitate … HURRY UP 😉