Koh Phangan Island and its Original Full Moon Party at Hadrin Beach in July 2007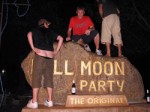 Welcome back to Koh Phangan Paradise – the Island of Madness – with its blue crystal waters, remote white sandy beaches and family like resort styles where you as the farang are more than welcome to spend all your money in this somewhat overpriced last paradise on our lovely planet called earth.
But first of all a warning … yes your heard right … a WARNING in bold and capital letters. Be warned and also aware that the main purpose of this website is simply to create chaos, gossip, intrusion, lies, deceit and destruction! Be warned that this website is part of a bigger global secret news network only dedicated in providing false information to simply just destroy anyone with good and pure moral intentions trying to safe any island!
Be warned that all our reptilian reporters from the hidden Koh Phangan Island Gutter Press are desperately in need of publishing deceit gossip news articles for the simple pleasure of bloody reactions. This is indeed where we get our real kicks from besides the professional usage of highly sophisticated mind altering substances on a daily base.
Be informed that Becki, the puppet master, who pulls the wires and strings behind the news network, originates from a well know Nazi German family better known for their home made and hand baked grenades throughout the second world war. Also be aware that Nazi Becki doesn't hesitate a single second and starts throwing freshly baked grenades at anyone who uses the words fund raising, donations and Koh Phangan in the same sentence. Just for the benefit to see what is going to happen! It kicks!
Please also take notice that reptilians simply dislike the following:
Sleeping areas, bandages, antiseptics, safety fund schemes, fund raising organizations, government officials and tourist police!
Reptilians need more tourists in a drunken state, more injuries, more accidents, more dead bodies and remains to secretly worship their hidden reptilian master in one of the darker dimensions in this universe. Reptilians are in constant need of more dead souls to survive!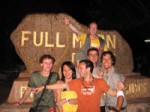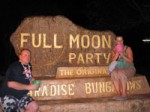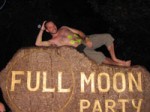 Warning … ALL characters and events in this website — even those based on REAL people — are entirely fictional! ANY similarity to actual persons and events is UNINTENTIONAL! This Website might also contain coarse language and due to its content it should not be viewed by anyone – thank you!
However … due to the massive onslaught by thousands of tourists at the islands monthly top event at Hadrin's world famous Full Moon Party local safety organizers more and more run into serious coordinating trouble every single month!
Main point of interest is the Original Full Moon Party Sightseeing Rock found at Paradise Bungalows on Hadrin Beach Koh Phangan. Nearly every tourist participating in this monthly top event is now getting more and more desperate to get their most wanted holiday snapshot at the Original Full Moon Party Sightseeing Rock to show it to the beloved ones at home. "Yes, I was there!"
"I've never seen something like that in my life! Everyone is just really getting totally mad to get a picture of them with the Original Full Moon Party Rock as the background. As there are more and more people coming every month, most tourists are no longer willing to wait and start pushing each other, sometimes in a really aggressive manner, to finally photograph their most wanted holiday shot.", original Island Party Safety Officials announced.
Island Party Safety Officials further added: "At peak times during the Full Moon Party Night a large crowd of people can been seen tightly squeezed together! Tourists need to calm down and relax! We will do anything in our power to ensure proper safety precautions!"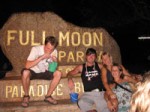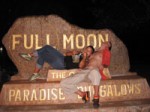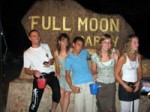 Therefore Island Officials have recently introduced a new and secure queuing program to finally cope with the vast amounts of tourists. Official queuing numbers can now be obtained 3 days prior to Full Moon Night directly at the Original Island Queuing Office next to Paradise Bungalows.
Please bring your personal documents, e.g. ID card, birth certificate, drivers license, passport or social security number when signing up for your personal and official Full Moon Party Photograph Queuing Card.
Registration hours close 10 p.m. day before Full Moon Party Night. Queuing starts at precisely 8 p.m. at the Full Moon Party night. Please make sure that you always have your personal queue ID card with you otherwise photographs may be denied by the island queuing committee – thank you! For more detailed information please call 077-377226.
Furthermore we are currently in the process of setting up an Official Full Moon Party Sightseeing Rock Cloning Foundation with the help of the Hadrin City Council and local business representatives. Our goal is to provide many more Full Moon Party Sightseeing Rocks at various locations spread around Haad Rin beach to reduce the escalating stress at the Original Full Moon Party Sightseeing Rock.
To accomplish our set goal we are in constant need of volunteers, support and massive generous donations by anyone who wants to support this truly non-profit and 100% organic foundation. Want to help our island paradise? Support and donations needed!
For direct and instant support and donations just click here – thank you!
Any donation send directly to the Official Full Moon Party Sightseeing Rock Cloning Foundation will be officially recognized by the Thai Government as a tax deduction. So please do not hesitate – thank you!
God bless America … aehm … Koh Phangan 😉