Koh Phangan Mystery of missing Norfolk backpacker who disappeared after Full Moon Party at Hadrin Beach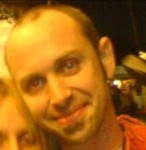 Mystery still remains over the disappearance of a Norfolk man, Danny Hall, who vanished after a full moon party in Koh Phangan a year ago.
Police are no nearer to discovering what happened to backpacker Danny Hall who has not been seen since he attended the famous Full Moon Party in the southern Thai resort of Koh Pha-Ngan Island on February 25th 2008 last year while on a six month holiday touring Asia.
Two dedicated pages on the social networking site Facebook have been set up in a bid to find him, displaying a poster and urging people to pass on details about his disappearance in the hope someone might have some information about his whereabouts.
Every month, it is estimated up to 10,000 revellers descend on Koh Pha Ngan Island for the all-night Full Moon Party beach rave.
As reported in the EDP, Mr Danny Hall, 36, from Norwich, who is a former winner of the television show Weakest Link, is of average build with a distinctive tattoo on his upper back taken from the Beatles Yellow Submarine artwork.
His belongings, except for his passport, were found in the bungalow where he was staying at Laem Son Haad Yao beach on Koh Phangan Island.
Anyone with information about Mr Hall should call Norfolk police on 0845 4564567