99 year old Swiss man is reunited with Thai wife on Koh Phangan Island

A 99-year-old pensioner has been reunited with his Thai wife after losing touch with her for four years when he went home to Switzerland for medical treatment and lost her phone number.
Emile Georges Jean-Petit-Matile and 70-year-old Krajai, his wife of more than 20 years, had lived together on the island of Koh Phangan in Thailand.
But in 2014, he needed to return to his native Switzerland for medical treatment. While home battling illness for more than 18 months, Emile lost his notebook with his wife's address and phone number inside.
The only information Emile had about his wife was their old address on Koh Phangan. However, police could not find her at that address because Krajai had returned to live with her family nearby.
After not hearing from Emile for so long she believed her husband had died.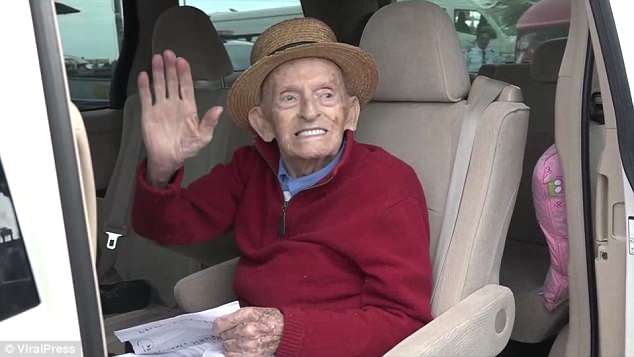 Emile was not well enough to travel back to Koh Phangan and because neither of them used the internet, there was no way for them to contact each other.
Although Emile fought through his health problems, he remained convinced that he would never see his 'one true love' again.
Earlier this month, he contacted tourist police at Suvarnabhumi Airport in Bangkok in a last-ditch bid to find her.
Officers tracked down his wife and arranged for Emile to be flown over from Switzerland.
He was flown to Koh Samui on Tuesday after arriving in Bangkok the previous day.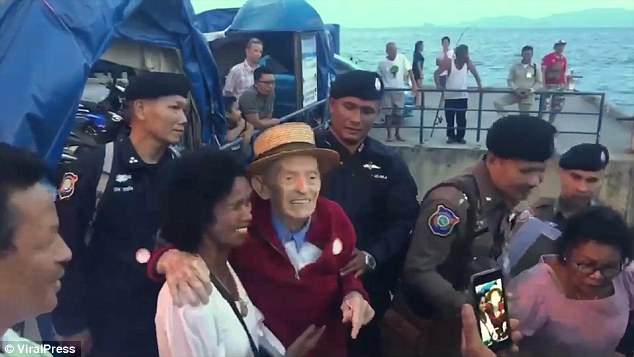 There, he boarded a boat to the neighbouring island where he and his beloved wife broke down in tears when they were finally reunited.
They embraced at the port harbour after Emile stepped off the boat before returning to their home.
'I have to tell you, that even though when you are old and your body hardly works, the feelings of love and joy are just as strong,' Emile said.
'This is the happiest moment of my life. To see my true love in my last years is what I have dreamed about while I was away.'
He added: 'I had lost all ways to contact my wife but I always believed that it was destiny for us to meet again.
'I'm so thankful for everybody who has made this possible. I want to spend the rest of my life with her. I've come home for a last hurrah.'
After being reunited, Krajai said she will now keep a close eye on her husband.
'I will look after my husband. I'll watch him closely,' she said.
'I'm so very happy to see him again. We are still in love very much.'
She added: 'He went home when he was sick and I thought he had passed away, because he never contacted me again.
'I didn't know how to get in contact with him when he was away. I just waited for him to call me. I did not know what had happened to him.'
Maj. Gen. Surachet Puangphan, Deputy Chief of Staff, and Kittipong Kittikachorn, the deputy director of Suvarnabhumi Airport, helped reunite the couple.
They said they were delighted with the outcome.
'We are happy to help two people who wanted to see each other again,' Kittipong said.
'Our team worked hard to make this possible and it was very rewarding to see the happiness it brought.'
Read the full story at DailyMail "Lovestruck pensioner, 99, who lost touch with his wife for FOUR YEARS when he misplaced her contact details is reunited with her in heartwarming video" which was brought to us by Google Alerts.