Dengue Fever Hype on Koh Phangan Island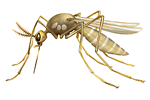 Just to let everyone know, the latest hype over Dengue Fever is just that:
There is no epidemic! It is a normal occurrence in all warm humid climates. A person can get Dengue on Koh Samui Island, Koh Tao Island, Phuket or even Krabi. In fact, it is endemic in South East Asia as well as in the deep South of the United States, like Florida.
It is transmitted by certain mosquitoes and these mosquitoes live all over the world. If you are that concerned about it then perhaps you should think about going someplace colder!